Protecting Kids From Halloween Cavities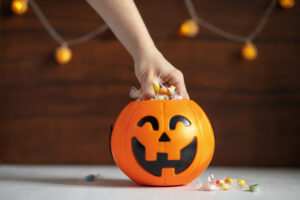 In less than two weeks your kids will be hitting the streets to trick or treat, picking up tons of sugary and sticky candies that could increase the risk of painful tooth decay. Our team wants them to enjoy this spooky holiday, but we also want to make sure they're teeth are being protected! In today's blog, your Dallas, TX, pediatric dentist talks about safeguarding little smiles against Halloween cavities. With the right steps, your kids can have fun and enjoy sweets in moderation, so they remain free of tooth decay in the weeks and months to come.
Sugar and Tooth Decay
When children eat a lot of Halloween candy, the sugar content can threaten their oral health. As sugar particles become trapped on and between the teeth, particularly if the candy is chewy and sticky, this could allow harmful oral bacteria the chance to break down and consume these particles. The process then increases the levels of oral acidity and coats the teeth in plaque buildup. Over time, these factors weaken the outer enamel to allow tooth decay to form, creating tooth sensitivity and toothaches. Without treatment, your little one risks infection and premature tooth loss, a major factor in the onset of dental misalignment. Which is why action needs to be taken to protect children from Halloween cavities.
Smile Healthy Halloween Habits
We want your kids to enjoy their Halloween fun and also the fruits of their labor. But you can take action to let them do this and still protect them from Halloween cavities. For example, have them pick a few of their favorite pieces and then give them the chicane to trade the rest for money or a toy. Limit them to a few pieces after a meal, when saliva production is higher, to help rinse away the sugar content. They should follow their sweets with a glass of water. This again helps cleanse the smile. Kids need to brush and floss daily to remove trapped particles too. These actions help fight Halloween cavities, and protect little ones from issues like gingivitis. If you're giving out sweets, consider offering non-candy options like stickers or party favors!
Checkups and Cleanings
You should also consider seeing us for a post-Halloween checkup and cleaning. With the checkup portion, we examine the smile and watch for signs of weakening enamel, so we can offer care before tooth decay forms. If we find a cavity, we can place lifelike fillings in one visit that contain no metal and blend with the smile. In the same sitting, we will remove all plaque and tartar from the teeth. The procedure helps lower the risk of tooth decay, and fights bad breath and teeth stains too.
Fluoride Treatments and Dental Sealants
We also have preventive treatments to help lower the risk of Halloween cavities in little smiles. With a fluoride treatment, we apply fluoride to the teeth in a varnish form. The process takes minutes, and the fluoride helps strengthen the outer enamel to prevent cavities from occurring. We can apply this every six months. Your little ones should also use a fluoride toothpaste when brushing, a rice sized amount for kids three and younger, a pea sized amount for everyone else.
Dental sealants help protect the rear teeth, as the molars are often difficult for children to thoroughly brush and floss. The sealants are a thin acrylic layer we coat these teeth with. Once we do, this prevents sugar particles from being stuck on the teeth or between them. The sealants take minutes to apply and can last for up to ten years in some cases, clinging the longest to the more vulnerable parts of the teeth. Once we apply fluoride or dental sealants, kids need to avoid food and drink for about 30 minutes while the material hardens.
If you have any questions about how our team can protect little smiles from cavities, or if you would like to schedule a post-Halloween visit for your kids, then contact our team today. We want your kids to have a spooky good time, but also keep their smiles bright and healthy too!
Talk Your Dallas, TX, Pediatric About Protecting Smiles from Cavities
We have treatment options to help safeguard your children from post-Halloween cavities and infections, which is why we invite you to contact your Dallas, TX pediatric dentist, Dr. Marr, by calling (214) 321-4880. We offer dental care for kids to keep their smiles healthy and strong, and also instill good oral health habits, so they can care for their pearly whites as adults and avoid issues like gum disease and tooth loss.

filed under: Children's Dental Services