Helping Children With Composite Fillings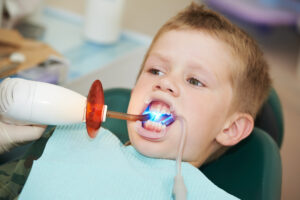 Cavities can lead to painful symptoms for your children, and even the risk of an infected or abscessed tooth. But our team can prevent these complications by placing a filling. In today's blog, your Dallas, TX, pediatric dentist talks about how we help children by placing our composite dental fillings.
Tooth Decay and Little Smiles
Kids often have a high risk of tooth decay, even as babies and toddlers. Cavities occur when oral bacteria consume particles of sugar and starch left behind by foods and drinks, creating plaque buildup that coats the teeth and weakens enamel to cause tooth decay. Falling asleep with a bottle or sippy cup of milk or juice could increase the risk of cavities, as could a diet high in sugar and infrequent or improper brushing and flossing habits. When a cavity does form, even in a primary tooth, treatment is needed as months or years could elapse before the tooth would fall out normally. This allows time for a cavity to become an infection, one that means worsening pain and the risk of premature tooth loss. When your little one complains about a toothache, let us know right away!
The Benefits of Composite Resin
The composite resin material we use is metal-free, which means it doesn't contain trace amounts of mercury and is safe for kids of all ages. The material is biocompatible and can stay in place for yard to come, protecting the tooth from further decay or infection. In addition, this blend of glass-like and acrylic-like particles can be color matched to blend with the tooth and offer a more lifelike appearance.
Placing Dental Fillings
The placement process begins with a digital x-ray, which allows us to identify the position and severity of the cavity. We then plan the treatment process in detail. We numb the tooth to keep your child comfortable and if he or she has special needs or anxiety, we could discuss sedation so they enter a calm and relaxed state.
We gently remove decay from the tooth and clean the surfaces. The composite resin is then shaded and applied in several layers. As the composite resin cures beneath a tooth, we will shape and sculpt the tooth. Finally, we polish it for a brighter appearance and to provide a smoother surface that makes plaque and tartar buildup less likely. In only one visit, our team can treat tooth decay in little smiles with a composite resin dental filling.
Your Dallas, TX, Pediatric Dentist Can Treat Tooth Decay
If your children complain about toothaches, or if you would like to schedule an appointment for our lifelike dental fillings, then we invite you to contact your Dallas, TX pediatric dentist, Dr. Marr, by calling (214) 321-4880.

filed under: Children's Dental Services