Treatments That Help Prevent Cavities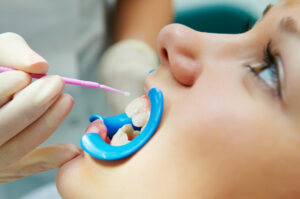 Cavities can impact children of all ages, from babies and toddlers to older kids and teens. We want to help children avoid tooth decay, as this causes discomfort and can threaten smile stability. Fortunately, we have several treatments to help kids avoid the onset of tooth decay. In today's blog, your Dallas, TX, pediatric dentist talks about cavity prevention.
Cavities and Kids
Children tend to be very susceptible to a cavity. This is because they often have trouble properly brushing and flossing, and tend to enjoy sugary snacks, chips, and other items high in starch, and drinks with sugars and acids like soda, sports drinks, and energy drinks. These factors can create layers of plaque buildup that weaken and erode enamel, causing tooth decay. For very young children, falling asleep or napping with a bottle or sippy cup of milk or juice could also lead to weakened enamel and cavities. When a cavity forms, children may eventually notice a toothache or sensitivity when eating. Treatment is then crucial to avoid infection and the premature loss of a tooth, which could lead to misalignment. Even baby teeth, which fall out eventually, require treatment to avoid infection and premature tooth loss. Our team can help them prevent the onset of cavities!
Fluoride Treatments
We want to see your little ones once every six months so we can examine the smile for signs of breakage and conduct a cleaning to remove harmful layers of plaque and tartar. This helps prevent cavities and allows us to identify and treat them in the earliest stages. But in the same visit, our team can also apply a fluoride varnish to the teeth. This topical gel will strengthen the weakened portions of enamel to keep cavities at bay. Application takes only minutes and kids then just need to avoid foods and drink for about 30 minutes. Fluoride is also important for their toothpastes, as kids three and younger need a rice sized amount of fluoride toothpaste, and everyone three and older needs a pea sized amount!
Dental Sealants
Our team also offers a unique preventive treatment that can safeguard teeth for up to ten years in some cases. Dental sealants are a special acrylic coating we add to the molars, the rear teeth children often have trouble reaching when they brush and floss. The layer prevents food and drink particles from being stuck on or between the teeth, limiting the risk of cavities forming in the future. The application involves our team drying the teeth, applying the sealants, and then curing them with a light. Kids then avoid food and ink for about 30 minutes. They will wear away gradually with time, clinging the longest to the more vulnerable portions of the tooth structure.
Dental Cleanings
We touched on dental cleanings above, but these are absolutely essential for protecting them from not only bad breath and teeth stains, but also tooth decay and even gingivitis. The procedure involves removing all plaque and tartar from their teeth with an ultrasonic scaling device and a manual tool. The process only takes a few minutes, but can help keep enamel strong and safeguard the gum tissues from inflammation too. We suggest one every six months, and now is a great time to have one, so your little ones can start the school year with bright and healthy smiles!
Treatment with Fillings
What if a cavity has already formed? Well, we can offer treatment in only one visit! With a dental filling, we use metal-free composite resin to fill the decayed portions of the tooth structure. The material is durable and biocompatible, and can be shaded to blend with your smile seamlessly. The application takes one visit, and we can polish the teeth to make it more difficult for plaque and tartar to adhere to the teeth. Your child's teeth also appear brighter!
Dental Crowns
If your little one has a more severe case of tooth decay, we can cap the tooth with a dental crown. The restoration is made from stainless steel or more lifelike zirconia, and treats advanced decay while also ensuring proper bite balance too. If you have any questions about how we treat a cavity, or help kids avoid tooth decay, then contact our team today to learn more. We want to help your children enjoy their healthiest smiles!
Speak With Your Dallas, TX, Pediatric Dentist About Avoiding A Cavity
If you want to help your little ones avoid a cavity or to schedule an appointment for a back-to-school dental exam, we invite you to contact your Dallas, TX pediatric dentist, Dr. Marr, by calling (214) 321-4880.

filed under: Preventive Treatments