Keeping Smiles Strong This Halloween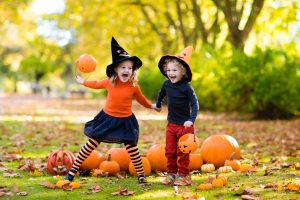 Kids love Halloween, from wearing costumes to trick or treating, this is a fun and spooky holiday for little ones of all ages. However, the inundation of sugary treats could mean cavities in little smiles, threatening their overall oral health. In today's blog, your Dallas, TX, pediatric dentist discusses tips to help prevent cavities!
Halloween and Childhood Cavities
When kids eat more candy than usual, this allows particles of sugar to cling to the teeth or become stuck between them. As bacteria break down these trapped particles, oral acidity levels rise and the teeth become coated in plaque buildup. Over time, this process causes demineralization, eroding outer enamel and allowing cavities to form. Kids then experience toothaches and sensitive teeth, and the risk of an infection without treatment. When your children bring home their candy, limit how many they can eat. Let them eat them right after meals, and wash them down with a glass of water, which helps cleanse the smile!
Choosing Better Treats
If you're going to be handing out treats this year, consider options that don't put little smiles at a higher risk of cavities. For example, you can pass out individual sealed packages of trail mix, nuts, or even packages of sugar-free gum. You could also bypass candy and food altogether and pass out stickers, rubber bats, plastic skeletons, and other afford party favors that can be purchased in bulk. When your kids bring home their haul, you could also give them the option of choosing a few favorite pieces, and trading the rest for a toy or maybe a small amount of money. This way they get to trick or treat, and you can help cut back on excessive sugar consumption!
Tips for Healthier Teeth and Gums
One very important way to protect little smiles is with good oral hygiene habits. For example, make sure your children start each day by brushing their teeth for two minutes, and using a fluoride toothpaste. Your family should do this before bed too, and also floss to reach what a toothbrush may miss. These habits help reduce the severity of plaque buildup. A visit for a checkup and cleaning is also helpful, as we can remove all plaque and watch for signs of trouble, addressing issues before they cause discomfort. If you have any questions about avoiding cavities, or if you would like to schedule a visit with our team, then contact our office today!
Talk to Your Dallas, TX Dentist's Office About Children's Cavity Prevention
We want to help your children enjoy their best smiles and avoid the onset of tooth decay. To schedule a visit for an exam and dental cleaning, then contact your Dallas, TX pediatric dentist, Dr. Marr, by calling (214) 321-4880.

filed under: Cavities/Tooth Decay