Keeping Little Smiles Healthy During Halloween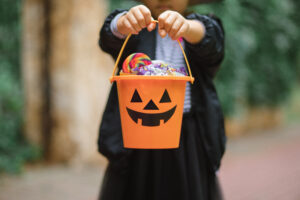 Halloween is around the corner! We want to make sure your children can enjoy the spooky season without leaving their smiles vulnerable to tooth decay. In today's blog, your Dallas, TX, pediatric dentist talks about fighting cavities and still enjoying a night of trick or treating!
Candy and Cavities
When children consume a lot of candy, this will leave behind particles of sugar, which cling to teeth and become trapped between them. Harmful oral bacteria will then consume these particles, a process that elevates oral acidity and oats the teeth in plaque buildup. Over time, this buildup weakens and erodes the protective layer of outer enamel, allowing cavities to form. Soon, your child could develop painful aches and sensitivity, and the risk of dental infection. Fortunately, there are steps that can reduce the risk of cavities!
Sugar-Free Treats
First, you can hand out non-candy treats like party favors, trail mix, nuts, stickers, or similar treats. When your children bring home their haul, try to limit their consumption to just after meals and to a few pieces. Encourage them to drink water too, as this helps rinse away the sugars. You could also offer them the opportunity to let you buy their candy from them. You could offer a few dollars or a new toy, and they can have a reduced risk of cavities!
Better Homecare
Be sure your kids always brush and floss, as this removes sugar particles and controls plaque buildup. Kids should brush in the mornings and then again at night for two minutes, all while using a small amount of fluoride toothpaste. Flossing before bed is essential too. You can also bring your children in for a checkup and cleaning, so we can watch for signs of trouble and also remove all plaque and tartar with a cleaning. We can also discuss treatments like fluoride gel to strengthen the outer enamel, or dental sealants to coat the rear teeth and prevent food or drink particles from becoming stuck in between the rear teeth, which are often more difficult for kids to reach when they brush and floss.
Now is a great time to see our team, as you can use your remaining 2022 dental insurance benefits or any leftover health savings funds before they expire at the end of December. The hectic holiday season will be here soon, so while your schedule is a little freer, contact our team to schedule a checkup and cleaning visit soon!
Your Dallas, TX, Dentist Offers Children's Dentistry
Our team wants to make sure your kids enjoy Halloween without increasing the risk of cavities. If you have any questions about helping little smiles avoid cavities, then contact your Dallas, TX pediatric dentist, Dr. Marr, by calling (214) 321-4880.

filed under: Children's Dental Services