When Do Kids Need To See The Dentist?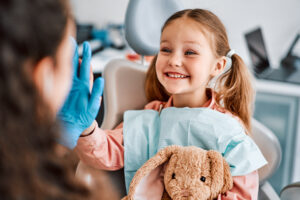 Children need dental care to protect their teeth and gums, just like adults. Our team offers a comprehensive approach to children's dentistry. We can help babies, toddlers, older kids, and even teens with their smiles. In today's blog, your Dallas, TX, pediatric dentist talks about when kids need to see our team!
The First Visit
When should kids see the dentist for the first time? We recommend a visit at around age one, after the first primary tooth erupts. The initial visit involves a simple knee-to-knee lap exam. Starting at around age two, children should begin attending six-month checkup and cleaning visits, just like you do with your own dentist. These are essential for helping kids enjoy good oral health and bright smiles!
Starting Checkups and Cleanings
The checkup is a chance for our team to examine the smile in detail with digital x-rays and intraoral camera images, so we can make a diagnosis with precision and accuracy, and identify concerns in their earliest stages. These visits are also a chance for kids to gain a better understanding of their smile, and to learn how to care for them from home. Routine visits also reduce the risk of dental anxiety, so your kids are more likely to continue seeing the dentist as adults. You establish the importance of a healthy smile early!
In these visits we also clean the teeth, removing the plaque and tartar buildup that brushing and flossing at home cannot do alone. The process uses an ultrasonic scaling device and a manual pick, and takes only a few minutes. We then polish the teeth, which helps them appear brighter but also smooths the surface so plaque and tartar have a harder time clinging to the teeth before their next visit. This procedure lowers the risk of cavities, gingivitis, and even bad breathing and teeth stains.
Warning Signs of Trouble
We want to see your kids twice a year, but what if signs of trouble pop up? You should consider an appointment if your child complains about tooth sensitivity or toothaches that last for more than a day, as this could mean the presence of a cavity or possibly a dental infection. Always let us know if there is long lasting discomfort.
Emergency Dentistry
A dental emergency means a tooth is cracked or chipped, or knocked loose or out. Unexplained pain or objects caught between teeth are cause for concern too, as is major discomfort that arises suddenly. Even if this happens outside of normal business hours, give us a call and we will reach out with a time to see your child quickly, so we can repair the teeth and restore them. Addressing the issue quickly lowers the risk of complications like tooth decay, which occur following even minor damage.
Dental Restorations
If your child needs a tooth repaired, or a cavity treated, then we can help with our restorations. If your little one has a cavity, we can place a filling made from composite resin, which blends with the tooth and is safe for all ages. If a more substantial restoration is in order, we could place a crown, stainless steel for the rear teeth and a more lifelike zirconia for the front facing ones. Remember, even baby teeth need treatment because otherwise the resulting infection could cause worsening tooth loss and an increased risk of dental misalignment, not to mention the increase in discomfort for your child.
Preventing Cavities
Our team can also provide unique treatments to lower the risk of cavities forming in your child's smile. During each checkup appointment, we can apply fluoride in a special varnish form to the teeth. The process takes seconds, and the fluoride can strengthen the weakened portions of the teeth to prevent enamel erosion and cavities. Since kids often have trouble reaching the molars when they brush and floss, cavities tend to form in these rear teeth. Fortunately, we can place dental sealants that coat the teeth and prevent this, so the risk of cavities drops. Sealants stay in place for years to come as long as ten in some cases.
If you have any questions about the importance of dental care for little smiles, or if you would like to schedule a visit for your child, then reach out to our team today.
Call Your Dallas, TX, Pediatric Dentist To Schedule a Visit
Our team is ready to help your kids enjoy their best smiles and about serious oral health concerns, which is why we invite you to contact your Dallas, TX pediatric dentist, Dr. Marr, by calling (214) 321-4880.

filed under: Children's Dental Services