How To Safeguard Your Child's Oral Health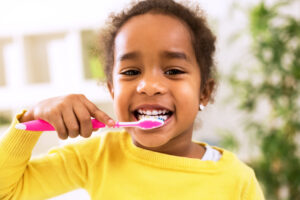 We want kids of all ages, from babies and toddlers to older kids and teens, to enjoy optimal oral health and a smile that shines. Which is why good oral hygiene is so essential. In today's blog, your Dallas, TX, pediatric dentist talks about different ways to safeguard your child's smile both at home and in our office. With the right steps, your little one can enjoy optimal oral health!
Good At-Home Routines
At home, kids need to brush and floss daily to remove stray particles of sugar and starch that could otherwise promote plaque buildup and increase the risk of cavities and gingivitis. For babies, you can clean their teeth with cloth twice a day. For toddlers, you may assist them with an age-appropriate toothbrush. As your children grow older and dexterity improves, you just need to make sure they brush for two minutes twice a day, in the morning and before going to bed. You can use a fun song or video to time them!
Be sure they use a fluoride toothpaste to protect the outer enamel. Kids three and younger should use a rice sized amount, while everyone over the age of three needs a pea sized amount. As soon as there are teeth sitting next to one another, kids need to floss. At a young age floss picks are often easier to use, and they can upgrade to floss tape as they grow older. Try to help them cut back on consumption of sugary foods and drinks too!
Checkups and Cleanings
A dental checkup is crucial for kids of all ages. Starting at around age two, we want to start seeing your kids twice a year for a checkup, so we can examine the smile with advanced digital imaging and identify any area of concern in the early stages, treating them before your child develops pain or loses the tooth prematurely. Our team will also make sure teeth are erupting and falling out as they should. In the same visit, we will clean the teeth. A durable cleaning is a procedure that removes all plaque and tartar from the teeth. We then polish the teeth to make it more difficult for plaque and tartar to adhere before the next visit. These visits also allow us to discuss proper oral hygiene habits and help prevent dental anxiety from developing in kids, so they're more likely to continue seeing the dentist as adults!
Our Preventive Treatments
When your children see us for checkups and cleanings, we may recommend preventive treatments to lower their risk of tooth decay. A fluoride treatment is administered in a topical form, and helps strengthen the weakened portions of enamel to limit the risk of cavities down the road. The application takes minutes. Dental sealants are a special acrylic coating we add to the molars, the rear teeth kids have trouble reaching when they brush and floss. They stay in place for years, often as long as a decade, and help lower the risk of cavities. For both options, kids will need to avoid food and drink for about 30 minutes as the materials cure. These treatments can help prevent major cavities and infections, so your child enjoys a healthy smile.
Custom Restorations
What if we discover a cavity? In many cases, we can treat it in one visit with a dental filling. Using metal-free material, we can treat the cavity and offer a more lifelike appearance afterward. For more severe cases of decay, we can place either a stainless steel crown or a NuSmile zirconia one. If a tooth is infected, then we can offer a root canal alternative known as a pulpotomy to remove the infected portions and save the tooth, usually complying it with a filling or by adding a crown. We then protect your child's restorations and smile in future visits, ensuring they continue to enjoy optimal oral health and a smile that shines.
If you have any questions about how we safeguard your child's oral health with our preventive and restorative treatments, then contact our team today to learn more. We look forward to seeing your little one and helping him or her enjoy optional oral health for years to come, so your child can smile with confidence.
Speak With Your Dallas, TX, Pediatric Dentist About Your Child's Next Appointment
If you want to schedule your child's next checkup and cleaning appointment with our team, then we invite you to contact your Dallas, TX pediatric dentist, Dr. Marr, by calling (214) 321-4880. Every child deserves good oral health and a smile that shines, so please reach out to us to start checkup and cleaning visits, and to address concerns like tooth decay.

filed under: Children's Dental Services