Helping Children Avoid Toothaches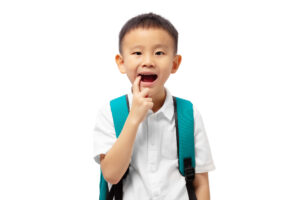 Toothaches can cause discomfort and even impact how comfortably your child can eat. But with good oral health habits and a healthy diet, your child can avoid toothaches and enjoy a cavity-free smile. In today's blog, your Dallas, TX, pediatric dentist talks about how our team addresses and prevents pain in a tooth.
The Causes of Toothaches
A toothache that lasts for more than a day could be a warning sign of a cavity or possibly the early stages of an infected tooth. While temporary aches could occur due to winter winds, changes in air pressure, or sinus or allergy issues, pain that persists for more than a day or two often means you have an oral health issue that needs immediate attention. A cavity forms when the outer layer of enamel is compromised. A diet high in sugar and starch could leave particles for bacteria to consume, a process that creates plaque buildup and weakens your child's tooth enamel, eroding it. Injury and teeth grinding could also impact the enamel. When bacteria reach the inner structures, this causes a cavity that will grow and spread without treatment, leading to infection or even the risk of a missing tooth. When your child reports pain in his or her tooth, let us know right away!
Care at Home and In-Office
At home, you can help limit the risk of tooth decay by offering plenty of water and healthy snacks and meals, cutting back on sugar and starch. You can also make sure they brush their teeth in the morning and at night for two minutes, and use a small amount of fluoride toothpaste each time. Make sure they floss in the evening as well! You should also bring your little one in for a checkup and cleaning every six months starting at age two. The exam is a chance to look for the earliest signs of trouble, so we can treat it quickly. Our team will also clean the teeth, thoroughly removing all plaque buildup to keep the enamel strong. We can also offer fluoride treatments to strengthen the outer enamel or dental sealants to prevent food particles from becoming trapped in the rear teeth, which are often hard to reach for kids.
Dental Fillings
Should a cavity form, we can offer a solution in one visit. Our fillings are safe for all ages and use a composite resin instead of metal, so we can shade them to blend with your child's smile.
Your Dallas, TX, Dentist Treats Dental Discomfort
Our team is here to help your child enjoy optimal oral health and bright smiles. If you have any questions about addressing discomfort in a child's smile, then contact your Dallas, TX pediatric dentist, Dr. Marr, by calling (214) 321-4880.

filed under: Children's Dental Services