Placing A Dental Crown For Your Child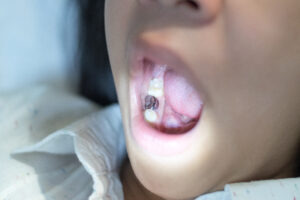 When children have a cavity too severe for a filling placement, or if they damage a tooth in a dental emergency, then we may recommend placing a dental crown. In today's blog, your Dallas, TX, pediatric dentist explains how we create and place a crown, and the materials we will use to create them.
When Kids Require Dental Restoration
A crown could be used to repair a tooth when one becomes chipped or cracked, as otherwise the tooth could become decayed and infected, or possibly lost prematurely. We can use the restoration to correct bite imbalance and improve overall chewing function for kids. Placement could help treat a tooth that is severely decayed and no longer able to be treated with a filling. If a tooth becomes infected, the crown could complete the pulpotomy procedure, protecting the tooth and preventing further discomfort.
The Materials Use
We choose from two different materials when it comes to crowns. For the side and rear teeth, which must handle serious bite forces and pressures daily, we often use stainless steel, which is very durable and strong. For the more visible front teeth, we have another durable material known as NuSmile Zirconia, which are more natural in appearance and tend to blend better than stainless steel. Both options can handle daily bite forces and provide a durable chewing surface for your child.
The Placement Process
If we find your child needs repair, we will first clean the tooth and if needed, remove any decay. Our team will numb the tooth so your little one is comfortable as we remove structure from the outside of the tooth, making room for the completed restoration. An impression is then taken and used to help finish the restoration. When the restoration is ready, we will then attach it to the tooth with a powerful bonding agent. With proper care and attention, such as daily brushing and flossing and regular visits for checkups and cleanings, the new restoration can last for years to come, until the tooth falls out and the permanent one arrives.
If you have any questions about how our team creates and places a crown for little smiles, or if your child has a damaged or aching tooth that needs attention, then please reach out to our team today.
Speak With Your Dallas, TX, Pediatric Dentist About Kids Restorations
If your child has a cracked or chipped tooth, or one that aches, then we invite you to contact your Dallas, TX pediatric dentist, Dr. Marr, by calling (214) 321-4880. Our team can employ restorative dentistry to provide results that protect the smile, and in many cases, offer a natural appearance. We want your little eons to smile with comfort and confidence!

filed under: Restorations for Kids