Back-To-School Checkups For Your Kids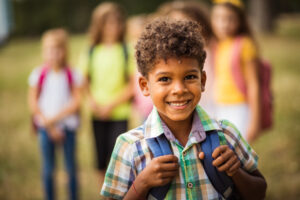 Your kids will be heading back to school soon, and you want them to be fully prepared. But between shopping for supplies and clothes, don't forget about their smiles! Now is a great time to see your Dallas, TX, pediatric dentist for a back-to-school dental exam and cleaning visit!
Checkups and Cleanings
Our team will conduct a thorough checkup for your little one. Our digital x-rays use 90% less radiation, don't require uncomfortable bitewings, and provide images instantly chairside, so we can make a diagnosis with precision and accuracy. If we uncover any areas of concern, we can discuss possible treatments or improvements to your child's daily oral hygiene routine. We keep an eye out for the earliest signs of cavities, gingivitis, and developing misalignment. In the same visit, our team will also clean the teeth thoroughly. A dental cleaning involves the use of an ultrasonic scaling device and a manual tool to break up and remove all plaque and tartar, which helps fight cavities, bad breath, gingivitis, and teeth stains.
Taking Time to Strengthen Little Smiles
We could also discuss the use of unique preventive treatments to help lower the risk of tooth decay. For example, during each of your checkup and cleaning visits, we could apply a topical fluoride gel to your child's smile, which helps strengthen the outer ensile to fight tooth decay and keep teeth strong. The process only takes a few minutes, and your little one just needs to avoid food and drink for about 30 minutes. Since kids have a hard time reaching the rear teeth when they brush and floss, we could coat the molars in a special acrylic layer. Dental sealants then prevent food and drink particles from being trapped on or between these teeth. They stay in place for up to ten years, fighting tooth decay in the more vulnerable portions of your child's smile. Again, application only takes a few minutes and kids just need to avoid food and drink for about 3 minutes.
Better Oral Hygiene Habits
Be sure that throughout the school year and on holidays your kids start and end their day by brushing for about two minutes. They should use a fluoride toothpaste too, kids three and younger using a riced sized blot, and everyone else using a pea sized amount. Kids also need to floss between their teeth and try to reduce their consumption of foods and drinks high in sugar and starch. If you have any questions, then contact our team today to learn more.
Speak With Your Dallas, TX, Pediatric Dentist About Safeguarding Your Child's Smile
If you want to protect smiles from cavities and other concerns, or to schedule an appointment for your little one, we invite you to contact your Dallas, TX pediatric dentist, Dr. Marr, by calling (214) 321-4880.

filed under: Preventive Treatments