Restorative Care Protects Your Child's Smile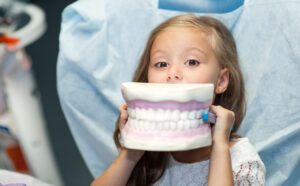 When your little one complains about an aching tooth, or if they damage one during a dental emergency, then your child may need restorative dental care. With restorative dentistry, we provide biocompatible and safe restorations to treat aching or infected teeth. In today's blog, your Dallas, TX, pediatric dentist talks about children's restorative dental care.
When Kids Need Restorative Dentistry
We urge parents to bring their children in for a checkup and cleaning visit at least once every six months. The reason? These visits enable us to keep an eye on their child's smile over time. We can then identify the earliest stages of trouble, addressing cavities before they experience discomfort or risk premature tooth loss. Otherwise, you may not realize your child needs restorative dentistry until the issue reaches an advanced stage, at which point your little one could complain about aching teeth or discomfort when eating or sensitivity when drinking. At this stage, care is crucial for avoiding major compilations!
Your Child's Consultation
We know how to help children feel relaxed and calm when they visit the dentist, and will take time to talk to them and answer their questions or address their concerns. We will discuss their oral health habits, and then examine the teeth with digital x-rays and intraoral cameras, so we can complete a diagnosis with precision and accuracy. From there, we can identify causes for concern and then create a treatment to correct the issue.
Dental Filling
If your kid has a cavity, we can often provide relief in one visit with a dental filling. We don't use metal, instead we opt for a metal-free composite resin material, one that is safe for all ages. The material is biocompatible and very durable, and also has the ability to better match the color of their teeth. To place one, we simply numb the tooth and then remove the decay. Our team then prepares and places the material in several layers. As we cure the tooth with a special light, our team will shape and mold the tooth. Finally, we polish it for a brighter appearance. Remember, even if a cavity forms in a baby tooth, treatment is still necessary. The tooth could fall out naturally weeks or even months after a cavity forms, and waiting for it to fall out leads to major discomfort for your child, and the risk of misalignment due to premature tooth loss.
Dental Crowns
What if a concern arises that is too severe for a dental filling? Our team may then recommend a dental crown. The restoration covers the entire visible portion of the tooth. Which means we can address minor and major dental damage, and also treat advanced tooth decay. Placement could also improve overall bite balance and chewing function too. We could place stainless steel for the side and rear teeth, which must endure greater bite forces. Our team could also use zirconia for the more front facing one, as this material is more lifelike in appearance.
Pulpotomies
When a tooth is infected, the dentist typically recommends a root canal procedure. For children, we have a conservative alternative known as a pulpotomy. Our team will take time to numb the tooth, and we may discuss dental sedation topo. When your little one is comfortable, our team will open the tooth to remove the infected portions of tissue, and we then add a special medicated filling. For some kids, we may need to cap the tooth with a crown. Treating an infection prevents the premature loss of the tooth, and the spread of infection to other parts of your child's smile!
Tooth Extraction
Sometimes, we may need to extract a tooth to make room for orthodontic treatment to improve bite function and chewing capabilities. We could also take out teeth too decayed or infected for treatment, to protect the rest of the smile. As with the pulpotomy, we will employ local anesthetic and sedation to ensure your child is comfortable and relaxed throughout the procedure, and we will offer aftercare instructions and prescriptions for any necessary medications as well.
If you have any questions about how our team treats little smiles with our durable restorations, or about protecting their smiles, then contact our team today.
Your Dallas, TX, Pediatric Dentist Provides Restorative Dental Care
If you have questions about preventing issues with your little one's oral health, or if you would like to schedule an appointment to help your child's aching teeth, then we invite you to contact your Dallas, TX pediatric dentist, Dr. Marr, by calling (214) 321-4880.

filed under: Restorations for Kids