When Dental Crowns Are Necessary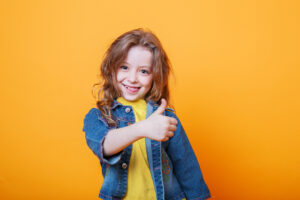 Our last blog discussed how our composite resin fillings help treat cavities in a child's smile. But if the issue becomes too severe for a filling, how do we help? With our dental crowns, we can address more severe oral health issues with a child's smile. In today's blog, your Dallas, TX, pediatric dentist talks about our children's dental crowns.
Dental Crowns
A dental crown, sometimes referred to a full restoration, caps a tooth and covers the visible portion. Which means our team could place them to correct a variety of restorative concerns to help your child's smile. They're beneficial for concerns too severe for a filling, and could often save a tooth from becoming prematurely lost.
Stainless Steel and Zirconia
We often create them from two different materials. For the side and rear teeth, we use stainless steel. This material can endure the more severe bite forces and pressure these teeth ensure. For the more front facing and visible teeth, we could use NuSmile zirconia, which offers a more lifelike appearance but again can handle daily bite forces and pressures with ease. We take a number of factors into account when we prescribe them, such as the position of the tooth and the overall visibility.
When Teeth Need Them
Our team could prescribe a dental crown for a serious case of tooth decay, or to complete a pulpotomy for an infected tooth. We could use them to reshape malformed teeth and also to more overall bite balance and chewing function too. We could also repair damaged teeth following a dental emergency, restring them before they develop complications like tooth decay and dental infection.
Placement
To place them, we will first numb your child's tooth and then gently remove structure from the tooth being treated. Next, we will create the restoration and attach it with a powerful bonding agent. The process could take one to two visits, and address several issues with the health, function, and in some cases, the appearance of the tooth. If your child has a tooth in need of restoration, or if your little one hasn't received a checkup and cleaning visit yet for 2023, then contact our team today. We would love to offer our durable dental crowns to repair teeth and also protect smiles from issues like tooth decay.
Your Dallas, TX, Pediatric Dentist Offers Durable Dental Restorations
If you want to find out more about restoring little smiles, or if you would like to schedule an appointment for our dependable and long-lasting restorations, we invite you to contact your Dallas, TX pediatric dentist, Dr. Marr, by calling (214) 321-4880. Remember, a path to a brighter and healthier smile for your child often starts with a dental checkup and cleaning visit.

filed under: Restorations for Kids