When Your Child's Teeth Need Restoration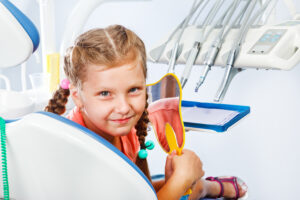 Restorative dentistry means we use treatments like dental fillings and crowns to repair cracked or chipped teeth, or address decay or infection. Care helps prevent painful symptoms, and also protects little smiles from premature tooth loss. In today's blog, your Dallas, TX, pediatric dentist talks about the restorations we offer for children.
Warning Signs of Trouble
How do you know if your child benefits from a dental restoration? If they attend six-month checkup and cleaning visits, then we can likely identify issues like tooth decay in the earliest stages of demineralization, before discomfort arises. Otherwise, you may know until your little one reports tooth sensitivity when he or she eats, or if a tooth develops that doesn't pass after a day or two. Aching teeth could mean the presence of more advanced tooth decay, or possibly a dental infection. Treatment is necessary before the tooth is lost prematurely, a complication that could increase the risk of misalignment. Even if cavities form in baby teeth, treatment is necessary. Waiting for the tooth to fall out could mean no treatment for weeks or even months, which allows severe infection and premature tooth loss to occur.
Dental Fillings
When you bring your little one in for an appointment, we will take a close look at their smile with digital x-rays and intraoral camera technology, so we can identify the position and severity of tooth decay or infected teeth. We then decide what restoration is necessary to help their smiles. For most cases of tooth decay, we could place a filling. Instead of using metal, we have a composite resin that is safe for all ages. The material can be shaded to blend with the rest of the tooth, and placement takes one visit. We numb the tooth to keep your child comfortable as we remove decay and clean the tooth. We then apply the material in several layers, and sculpt the tooth as it cures beneath a light. Finally, we polish the tooth for a brighter appearance!
Dental Crowns
What if a dental filling isn't enough to repair a tooth? Then a full restoration, or dental crown, may be prescribed. Our team will again numb the tooth to ensure your child's comfort. We then remove structure from it, and attach a crown. We could offer a restoration made from stainless steel, especially for the side and rear teeth that ensure greater bite forces. Our team also has zirconia, which is durable and more likely in appearance. A crown can not only address decay, but also improve overall bite balance and chewing function, and repair damaged teeth too.
Pulpotomies
What if a tooth has developed an infection? Treatment is crucial to save the tooth and keep the smile whole. With a pulpotomy, we have an alternative to the root canal. Our team will make sure your little one is comfortable, and then open the tooth to remove the infected portions of inner tissues. We then add a special restorative material and if needed, will cap the tooth with a crown. This helps safeguard the tooth and prevent worsening pain or the risk of tooth loss.
A Preventive Approach
Our team could also discuss unique preventive treatments to help strengthen the smile and keep cavities at bay. For example, we can use fluoride treatments during each checkup to shore up the outer enamel, applying it in a topical gel form. Our team could also offer dental sealants too, which involve coating the rear teeth in a special acrylic material. These teeth are often hard for kids to reach when they brush and floss. The sealants stay in place for up to ten years, and help protect the smile from the risk of tooth decay. We also urge children to see us for checkups and cleanings, so we can monitor the smile and see if crowns are needed, and also remove harmful plaque and tartar layers.
If you have any questions about how our team protects little smiles with dental restoration, or about scheming your little one's next checkup and cleaning visit, then contact our team today to learn more.
Your Dallas, TX, Pediatric Dentist Provides Restorative Dental Care for Children
If you have questions about treating cavities and dental damage in little smiles, or if you would like to schedule an appointment to have your child's teeth repaired and restored, then we invite you to contact your Dallas, TX pediatric dentist, Dr. Marr, by calling (214) 321-4880. Our team wants to help your little one maintain optimal oral health throughout his or her childhood!

filed under: Restorations for Kids