Restorative Treatments For Children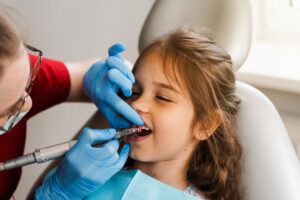 When a child has chipped or cracked a tooth, or develops a cavity, then a restoration is necessary to protect them from toothaches and the threat of infection. Fortunately, our team can place crowns and fillings that return teeth to optimal health, function, and in some cases, appearance. In today's blog, your Dallas, TX, pediatric dentist talks about the restorative treatments we offer for kids in our community.
When Kids Need a Restoration
Each of your child's teeth are coated in tooth enamel, the hardest substance in the human body. Enamel protects the teeth and keeps them strong, but when issues occur that compromise the enamel, the teeth could be vulnerable to tooth decay and infection. This could include the presence of tooth decay, or even a chipped or cracked tooth. When children sustain an injury or complain about a toothache, you should let us know right away so we can conduct an examination and see what treatments are necessary. Quick action could help protect them from infection and premature tooth loss, helping their smiles stay healthy and whole. With our custom restorations, we can return little smiles to optimal health, function, and beauty, sometimes in as little as one visit.
Dental Fillings
A dental filling is often used to treat tooth decay. Instead of metal, we have a material safe for all ages, and one that can be shaded to blend with surrounding tooth structure. To begin, we will examine the smile to assess the position and severity of the cavity. We then numb your child's tooth and remove the decay. We clean the tooth and apply the composite resin in several layers, sculpting it as we cure the material beneath a light. Finally, we polish the tooth for a brighter appearance. The entire process takes one visit, and helps prevent cavities from becoming painful infections or abscesses. The same material can also be used for minor repairs in a dental bonding procedure.
Dental Crowns
What if your child has a more severe case of tooth decay or damage beyond the ability of a filling to address? Dental crowns cover the visible portion of a tooth. We can use them to repair cracked or chipped teeth, lengthen worn down teeth, and address more severe cases of tooth decay. These restorations can also be used to improve the balance of the bite and offer better chewing function. Our team will again numb the tooth and then remove structure from it. We next attach the crown. For the side and rear eth, we can use stainless steel as this is a very durable option. Our team also has zirconia, which is more lifelike in appearance, for the front teeth. We then connect it with a powerful bonding agent, and this can provide years of restorative improvement.
Pulpotomy
As part of our approach to restorative dentistry, we can also treat infected teeth. For children, we offer a root canal alternative known as pulpotomy. A more conservative treatment, this allows us to safely and gently remove the infected portion of the inner tissues from a tooth. We then add a special medicated filling material. For more severe cases, we also cap the tooth with a dental crown. This restorative treatment helps prevent the premature loss of baby teeth, and safeguards permanent teeth too, so your little one enjoys a whole and healthy smile.
Tooth Extraction
Sometimes, a tooth is beyond the treatment of a filling or crown. In these situations, leaving the tooth as-is could lead to the spread of infection or other parts of the smile. To prevent this, we can remove the teeth in question with a safe and gentle tooth extraction. We have steps with anesthesia and sedation to keep your kids comfortable. We can also use these to make room for orthodontic treatment, improve bite balance and chewing function, and prevent wisdom tooth impaction for older kids.
Preventive Treatments
In these same restorative visits, our team can offer preventive treatments to help reduce the risk of cavities and infection down the road. These include fluoride treatments to strengthen the outer enamel, or dental sealants to safeguard the hard-to-reach rear teeth. If you have any questions about our approach to restorative dentistry, then contact our team today.
Schedule a Visit With Your Dallas, TX, Pediatric Dentist
If you want to find out more about restoring little smiles or if you would like to schedule an appointment for your child, we invite you to contact your Dallas, TX pediatric dentist, Dr. Marr, by calling (214) 321-4880.

filed under: Restorations for Kids