Preventive Care To Safeguard Little Smiles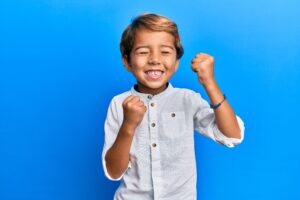 Our team believes in a preventive approach to treating children's smiles, protecting them from the onset of tooth decay and other serious oral health concerns. From checkups and cleanings to fluoride and dental sealants, we help strengthen their smiles. In today's blog, your Dallas, TX, pediatric dentist talks about our preventive treatment options.
Checkups
Every kid benefits from a routine checkup visit every six months, starting at around age two. These preventive dental visits enable our team to keep an eye on little smiles as they grow and develop, so we can identify areas of concern in the earliest stages, often before your child develops discomfort. For example, using digital x-rays and intraoral cameras, our team will diagnose cavities in the earliest stages of demineralization. We also make sure primary teeth erupt and fall out as they should, and that permanent teeth have a clear path to eruption, limiting misalignment. These visits also help instill good oral health habits, as kids become accustomed to seeing the dentist and gain a better understanding of their smiles. This can help reduce the risk of dental anxiety!
Dental Cleanings
Our team also cleans the teeth, a process that employs an ultrasonic scaling device and a manual tool to gently and thoroughly break up and remove all plaque buildup from their teeth. Removing plaque helps lower the risk of cavities and also fights gum inflammation, bad breath, and even the risk of teeth stains.
Fluoride Treatment
During these six month visits, we can also lower the risk of tooth decay by applying a topical fluoride gel to the surfaces of the teeth. The gel helps strengthen the outer layer of enamel, which protects the teeth from tooth decay and infection. This preventive treatment only takes minutes and your kids need to avoid food and drink for 30 minutes afterward. You can also help by making sure your kids are using a fluoride toothpaste at home, as kids three and younger need a rice sized amount, and kids over the age of three need a pea sized amount.
Dental Sealants
We could also offer preventive dental protection with dental sealants. Kids have trouble reaching the rear teeth when they brush and floss, which allows particles of food to become stuck there. As bacteria breaks them down and consumes them, this creates plaque buildup and weakens enamel to cause cavities. But with dental sealants, we coat these rear molars with a special plastic layer. Food and drink particles can no longer become stuck on or between them. The application process only takes a few months, and these layers can stay in place for up to ten years in some cases. As they wear away with time, they tend to cling the longest to the more vulnerable portions of outer structure.
Brushing and Flossing
We also want to make sure your kids are caring for their smiles from home as part of our approach to preventive dentistry. Good brushing and flossing habits limit the severity of plaque until we can see your kids for a checkup and cleaning visit every six months and completely remove this buildup. Children need to brush in the morning and again at night for at least two minutes, using a fluoride toothpaste. You can time them with songs, apps, or even a sand timer. They also need to floss every evening, which removes what is beyond the reach of their toothbrush's bristles. These actions help lower the risk of cavities and more!
Better Diets
What your child eats is an important part of preventive dentistry too! Children need to avoid too much sugar and starch, as these ingredients can cling to the teeth and be broken down by bacteria, creating an increased risk of tooth decay. Try to cut back on sugary snacks and candies, as well as chips. Encourage them to drink more water instead of sport drinks, sodas, energy drinks, or fruit juices. Healthy snacks include whole grain bread items, selections high in vitamin C, and fresh fruits and vegetables. These help strengthen the teeth and are good for overall health as well.
If you have any questions about protecting your child's oral health, or about scheduling your little one's next checkup and cleaning, then contact our team today to learn more.
Schedule a Visit With Your Dallas, TX, Pediatric Dentist for Preventive Care
If you want to find out more about our preventive treatments for children's smiles, or if you would like to schedule an appointment for your child, we invite you to contact your Dallas, TX pediatric dentist, Dr. Marr, by calling (214) 321-4880.

filed under: Preventive Treatments