Time For Your Child's Dental Exam?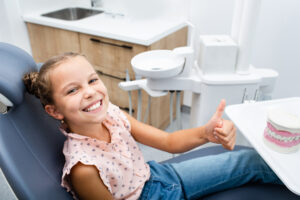 When children don't see the dentist for their routine examinations, this could leave them vulnerable to serious issues ranging from cavities to misalignment. Which is why we recommend one twice a year! In today's blog, your Dallas, TX, pediatric dentist talks about the benefits of a routine exam, and what to expect from these visits.
When to See Our Team
When your little one is about one and the first baby tooth erupts, then we recommend an initial exam within six months of this event. The first exam doesn't involve treatment, and is instead a simple knee-to-knee lap exam to make sure the teeth are erupting properly. Starting at around two years of age, we recommend a six-month checkup and cleaning appointment, so we can begin to monitor your children's oral health. These visits also instill good oral health habits, and as kids become accustomed to seeing the dentist, the risk of dental anxiety is reduced and they're more likely to continue care as adults.
The Checkup Process
The dental exam involves our team taking a close look at the teeth with digital x-rays and intraoral cameras, so we can assess the current state of their oral health and identify areas of concern as they develop, including tooth decay, gingivitis, and complications with the eruption and loss of the primary teeth, or possible issues with the arrival of the permanent ones. We then take action to help limit the risk of complications, including dental misalignment.
Helping Kids Feel Comfortable
Our team will talk to your children throughout the process, letting them know what we're doing and what tools we're using. We will happily answer their questions, and allow them to feel heard and part of the process. Our team wants kids to enjoy their time at the dentist, and learn a lot about their smiles and how to keep them healthy and bright for years to come.
Cleaning Smiles
In the same visit, our team will remove all plaque and tartar buildup from the teeth. Doing so helps lower the risk of bad breath, stained teeth, cavities, and gum inflammation. We then polish the teeth for a brighter appearance. Afterward, we could apply a topical fluoride gel to limit the risk of cavities, or discuss the placement of dental sealants to keep food particles from being stuck between the rear molars for years to come.
If you have any questions, then reach out today!
Schedule a Visit With Your Dallas, TX, Pediatric Dentist for an Checkup
If you want to find out more about protecting little smiles from cavities or if you would like to schedule an appointment for your child, we invite you to contact your Dallas, TX pediatric dentist, Dr. Marr, by calling (214) 321-4880.

filed under: Preventive Treatments