Dental Sealants Keep Cavities At Bay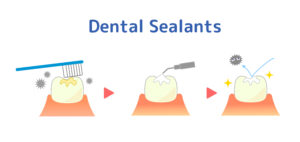 When your child develops a cavity, this can cause discomfort and also threaten the stability of the smile. But we offer preventive treatments designed to help avoid the onset of cavities, often for years to come. In today's blog, your Dallas, TX, pediatric dentist talks about how we keep cavities at bay with our dental sealants.
The Causes of Cavities in Little Smiles
Children are often susceptible to tooth decay because they not only have a limitless appetite for all things sugary, but they also have limited dexterity when it comes to brushing and flossing, which is a dangerous combination. As bacteria consume the sugar particles left behind on or between the teeth, this creates a plaque buildup that weakens and erodes enamel, making cavities possible. Which is why sugar in moderation and taking time to brush twice a day for two minutes and floss every evening is so important! But we can also help with a unique preventive treatment.
Placing Dental Sealants
Dental sealants are a special plastic coating that we add to the molars, the rear teeth that kids often have trouble reaching when they brush and floss. The process is simple. We will thoroughly clean these teeth and apply an acidic gel to them to roughen the surfaces and allow the sealants to stay in place as they cure. We then remove the gel and add the sealants. These will be cured with a light. Once cured, they will provide years of protection, up to ten in some cases. No need to remove them, as they simply wear away with time. As they wear away, they will also cling the longest to the more vulnerable portions of the tooth structure. Since food particles can no longer be trapped between these teeth, the risk of cavities is reduced!
What About Fluoride?
We can also offer fluoride treatments as part of your child's checkup and cleaning visit. Essentially, we will apply fluoride in a topical gel form to the teeth. This has been shown to strengthen the enamel, so your child's natural defenses against tooth decay are improved. You can also help by making sure they use a fluoride toothpaste, with kids three and younger using a rice sized amount, and kids over the age of three using a pea sized amount.
If you have any questions, give us a call today! There is still time to use your 2022 dental insurance benefits before they expire.
Does Your Child Need a Preventive Visit Soon?
If you want to learn more about preventing the onset of cavities, or if you would like to schedule an appointment, we invite you to contact your Dallas, TX pediatric dentist, Dr. Marr, by calling (214) 321-4880.

filed under: Preventive Treatments