How We Help Little Smiles With Dental Lasers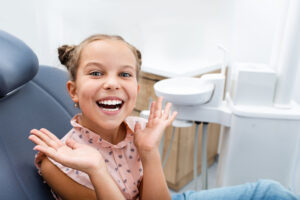 We offer advanced technology to diagnose and treat smiles for kids of all ages. For example, we use comfortable digital x-rays to make a diagnosis with precision and accuracy. But we also use advanced treatments like dental lasers to provide an alternative to scalpels and sutures. In today's blog, your Dallas, TX, pediatric dentist talks about laser dentistry.
Our Solea System
Using dental lasers often means children avoid the need for shots to administer anesthesia, and also that we can conduct treatments without the need for drills, scalpels, or sutures. All in all, this means a more comfortable and enjoyable visit for your little ones. The Solea system administers a concentrated beam of light that is specially calibrated to handle soft issues concerns. Our team can treat a host of minor and severe oral health concerns for kids of all ages, so they can enjoy better oral health as a result.
Treatment Options
Our team can use this technology to shrink canker and cold sores, so they heal fast and are less likely to return in the same positions. The system can also be used to gently remove decay from a tooth and to administer fillings without the need for anesthesia, so no shots! We can help common soft tissue concerns as needed in the treatment of gummy smiles or gingivitis, and we can help improve the esthetics of the smile. We can even use them to treat issues more severe than tooth decay, such as dental infection.
The Benefits for Our Patients
For children, the use of dental lasers means most treatments only take one visit, and they heal quickly, so kids can return to their normal routines the next day in most cases. This technology means we don't need to use loud drills, and without sutures the treated areas heal quickly. We can address the areas of the smile requiring treatment with precision, preventing damage to healthy structures. They also reduce the risk of swelling, infection, and bleeding significantly. The technology also means kids have to spend less time in the chair, and their office visits are much shorter. In many cases, kids even return to school once we've completed the procedure, so they don't risk falling behind!
If you have any questions about how we treat these concerns with advanced laser technology, or if you would like to schedule a visit for your little one, then reach out to our team today to learn more.
Talk Your Dallas, TX, Pediatric About Laser Dentistry
Our team wants to help your children maintain good oral health for years to come, which is why we invite you to contact your Dallas, TX pediatric dentist, Dr. Marr, by calling (214) 321-4880.

filed under: Preventive Treatments