How Dental Lasers Offer Comfortable Treatment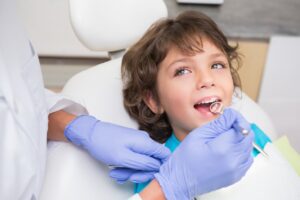 Our team offers advanced treatment options to ensure kids of all ages can not only enjoy better oral health, but a comfortable and positive experience in our office. One example is the use of dental lasers to treat common oral health concerns. In today's blog, your Dallas, TX, pediatric dentist talks about our use of dental lasers to combat oral health issues in childhood!
When We Prescribe a Dental Laser
We may use a laser as part of treatment for a number of different soft issue concerns. The system employs a concentrated beam of light that is calibrated for soft tissue use, providing treatment with precision and accuracy. Our team can use the technology to help remove decay from teeth, destroy deposits of bacteria and plaque buildup that could inflame gum tissues and cause gingivitis, and even provide a solution for cold sore and canker sores, so they heal much faster and your child avoids further discomfort or embarrassment. These can address a host of issues with the health of the teeth and gums, and provide a number of advantages over traditional scalpels and sutures.
Benefits for Our Young Patients
The Solea dental laser rarely requires anesthesia and addresses concerns in one visit, so your child can avoid shots and enjoy less time in the chair. The technology targets areas with precision to prevent damage to healthy gums. Since we don't need sutures, the area heals much quicker, and kids also avoid swelling, bleeding, and infection afterward. In fact, most return to normal activities after only a day of rest! In some cases, children can even go back to school after their visit.
See Us Soon!
If your child hasn't seen us for a checkup and cleaning lately, now is a great time to schedule a visit. They can see us without missing school, and can start back in the fall with brighter and healthier smiles. Our team will find out if they benefit from treatment with the advanced and comfortable Solea system, and help them obtain a better understanding of their oral health and the need to safeguard their smiles. If you have any questions about laser dentistry, or about our exams and cleanings for kids, then contact our team today. We would love to hear from you, and to schedule your child's next appointment!
Speak With Your Dallas, TX, Pediatric Dentist About Our Advanced Treatment Options
If you would like to help your child enjoy relief from an oral health issue, or to schedule an appointment for an exam and cleaning, we invite you to contact your Dallas, TX pediatric dentist, Dr. Marr, by calling (214) 321-4880. We help kids of all ages in our community enjoy optimal oral health and smiles that shine!

filed under: Restorations for Kids