When Your Kids Need A Root Canal Treatment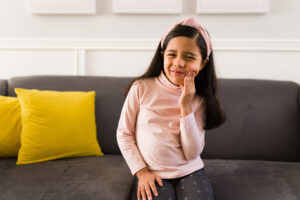 A tooth that develops a cavity and isn't treated in a timely manner could become infected. For kids, an infected tooth means serious discomfort and even the risk of tooth loss. But your Dallas, TX, pediatric dentist talks about how we treat infected teeth in a child's smile with a conservative tooth canal alternative known as a pulpotomy.
The Causes and Dangers of an Infected Tooth
At the center of every tooth is a collection of tissues known as the pulp, which keeps the tooth healthy and functional. But when bacteria make contact with the pulp this could mean an infection that could threaten the stability of the tooth. When a tooth is then lost prematurely, this could mean an increased risk of misalignment!
The infection could be caused by an untreated cavity or a serious injury to the tooth. When your child experiences pain when eating, or persistent ache, then let us know right away. If you attend six-month checkup and cleaning visits, then we identify the problem in the earliest stages often before your child experiences discomfort!
The Pulpotomy Procedure
If a tooth is infected, we could offer a root canal alternative known as a pulpotomy. We will numb the tooth to keep your little one comfortable as we open the tooth and remove portions of the tissues from within. We then add a mediated filling to the set of your child's tooth. A filling is used to complete the procedure, or we could cap it with a crown. We have stainless steel for the side and rear teeth which endure more severe bite forces, and more lifelike NuSmile zirconia crowns for the front facing ones. In one visit, this can offer relief and protect the health and stability of your child's smile for years to come!
Keeping Your Kids Comfortable
Our team offers local anesthesia for the tooth, and we can also discuss sedation. Dental sedation helps kids enter a calm and relaxed state, with little to no memory of the procedure even if they're still conscious. This is also helpful with kids who have anxiety or special needs that make receiving care difficult. Don't let their very real fears keep them from enjoying the smile they deserve, talk to our team about our options. We want to make sure your kids have a positive experience, and look forward to their next visit with our team!
If you have any questions about children's dentistry, then contact our team today to learn more.
Speak With Your Dallas, TX, Pediatric Dentist About Endodontic Treatment
Our team wants to help treat your child's dental infection and keep their smiles healthy and whole, then we invite you to contact your Dallas, TX pediatric dentist, Dr. Marr, by calling (214) 321-4880.

filed under: Restorations for Kids