Choosing Healthier Snacks And Drinks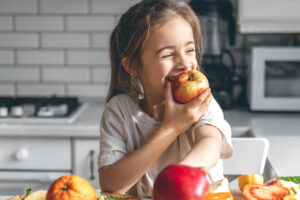 The foods and drinks your kids consume can impact the health and beauty of their smiles. Too many sweets, or drinks with acidic content, could increase the risk of cavities and even gingivitis. In today's blog, your Dallas, TX, pediatric dentist talks about how to pick better snacks and drinks for your kids, keeping them safe from cavities.
The Dangers of Sugar, Starch, and Acids
When we consume foods and drinks with a high amount of sugar and starch, such as candy, snack cakes, chips, or even dried fruits and fruit juice, these could leave behind particles for harmful oral bacteria to break down, a process that creates plaque buildup and weakens outer enamel. In addition, drinks with a lot of acids in them, such as sports drinks and energy drinks, could also weaken the outer else to increase the risk of cavities. Sports drinks are also harmful because children tend to drink them when they're playing sports or other outdoor activities, when the heat could already lead to dry mouth and prevent saliva from rinsing away the particles of sugar. Which is why choosing healthier snacks can help your kids avoid the onset of tooth decay or even gingivitis.
Choosing Healthy Options
First, encourage your kids to drink plenty of water. This helps cleanse the mouth and keeps them hydrated too. Water also contains no sugars or acids. If your children do enjoy a soda or sports drink, don't sip and instead drink it quickly and follow it with a glass of water to help rinse away acids and sugars. As for meals, try to substitute chips and candies with options like fresh fruits, vegetables, whole grain breads, low-fat yogurts, or other healthy options. Meals should also include lots of fresh fruits and veggies too. These options provide vitamin C that can strengthen the teeth.
Caring for Little Smiles
In addition to a good diet, make sure your kids are taking time to brush their teeth twice a day for two minutes, and using an appropriate amount of fluoride toothpaste. Kids three and younger need a rice sized blot, everyone else needs a pea sized amount. Kids also need to floss in the evening to remove what a toothbrush alone cannot. Find time to bring them in for a checkup and cleaning visit too! A visit now can help ensure they start a new school year with a bright and healthy smile. If you have any questions, then contact our team today to learn more.
Speak With Your Dallas, TX, Pediatric Dentist About Preventive Dentistry
If you want to help your children enjoy better oral health, or to schedule an appointment for a checkup and cleaning, we invite you to contact your Dallas, TX pediatric dentist, Dr. Marr, by calling (214) 321-4880.

filed under: Good Hygiene