Dental Crowns Can Preserve Your Child's Smile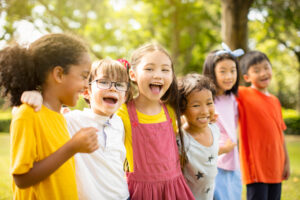 When a dental filling isn't enough to adequately repair a tooth with decay, damage, or infection, then we may prescribe a dental crown. In fact, these can help prevent major complications. In today's blog, your Dallas, TX, pediatric dentist talks about how we can help preserve your child's smile!
When a Dental Crown is Needed
A crown helps restore the structure of a tooth. When placed, it covers the entire visible portion of the tooth, which means we can use them to correct a number of cosmetic and restorative concerns. We could place one to address severe cases of tooth decay, or for infections, complete the pulpotomy procedure. Placement could be used to address misshapen teeth, restoring bite balance, as well as chewing function too. Our team could also repair damaged teeth, addressing dental emergencies to protect teeth from the onset of decay or infection.
How We Place Them
First, we will make a detailed examination of the smile to assess the issue at hand and decide if a restoration is necessary. If so, we will administer a local numbing agent to the tooth, as well as dental sedation. Once your child is in a calm and relaxed state, we will remove structure from the tooth to make room for the crown. We then attach the restoration with a powerful bonding agent. For the side and rear teeth, which endure greater bite forces, we could recommend stainless steel. We also have NuSmile zirconia, which is a durable material that is more natural in appearance. Once in place, your child's crown could remain there for years to come.
Preventing the Need for a Restoration
To help prevent a damaged tooth from full contact sports, be sure your children wear mouthguards. To help stave off tooth decay and infection, be sure they brush in the morning for two minutes and that they do the same before going to bed. Each session should involve the use of a fluoride toothpaste too. Kids three and younger need a rice-sized portion, kids over the age of three need a pea sized amount. Children also need to floss every evening to remove what a toothbrush cannot. Finally, make time to see us for a checkup and cleaning appointment every six months. There is still time to schedule one now and use your 2022 dental benefits before they expire at the end of the year!
If you have any questions, then reach out today!
Does Your Child Need a Dental Restoration?
If you need to bring your child in to repair and restore a tooth, or if you would like to schedule a checkup and cleaning appointment, we invite you to contact your Dallas, TX pediatric dentist, Dr. Marr, by calling (214) 321-4880.

filed under: Restorations for Kids