How We Repair Your Child's Smile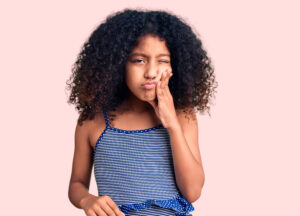 When a tooth in your child's smile develops a cavity or an infection, or one is damaged, then treatment is crucial for keeping the smile healthy and strong. These can also protect the beauty of their teeth too! In today's blog, your Dallas, TX, pediatric dentist talks about how we use restorative treatments to repair a child's smile.
When Kids Need the Dentist
Starting at age one, once the first primary tooth erupts, we want to see your child for a simple knee-to-knee lap exam. This visit doesn't involve treatment, but helps our team make sure the baby teeth are erupting as they should. Starting at around age two, kids need to see us every six months for a checkup and cleaning, so we can diagnose any issues that need attention in the earliest stages. Outside of these visits, you may need to bring your child in should he or she complain about an aching tooth or if a tooth is damaged. The sooner we see them, the sooner we can offer treatment to protect the smile from major complications. But who do we repair a child's teeth with restorative dentistry? What dental restorations do we provide?
Dental Fillings
For a cavity, our team could place a dental filling to bring relief to the tooth and prevent the decay from becoming an infection that threatens tooth stability. We first numb the tooth and then remove any decay. We clean the outer structure and apply the composite resin filling material. Metal-free, this material can be shaded to blend with the tooth. We then shape the tooth as the composite resin cures beneath a light. Finally, we polish the tooth for a brighter appearance, offering treatment in only one visit.
Dental Crowns
If your child has a more severe case of tooth decay, or if a tooth is injured in a dental emergency, we can offer a more substantial restoration in the form of a dental crown. The crown covers the entire visible portion of a tooth. So, we can address cracks, chips, and restore worn down structure too. We can also help improve bite balance and chewing function too. We again numb the tooth to keep kids comfortable as we remove structure from it. We then attach the crown with a powerful bonding agent. We typically use stainless steel for the rear teeth, and a more lifelike zirconia for the front facing ones.
Root Canal Alternative
When a tooth is infected, this could mean serious pain and the risk of tooth loss. Premature tooth loss also increases the risk of misalignment. But we can offer relief with a root canal alternative known as a pulpotomy. Our team will first administer a local numbing agent and possibly sedation. We then open the tooth to remove a portion of the infected tissues within. We add a restorative filling material to complete the process, or we may place a dental crown too. This helps preserve your child's smile!
Laser Dentistry
When possible, we employ advanced technology to treat serious issues impacting a smile. In many cases, we can use a dental laser to treat cold sores, gum health issues, or to remove decay. The laser can target areas with precision and accuracy, and rarely require the use of anesthesia. No need for sutures either, and the area heals quickly with little risk of bleeding, soreness, infection, and swelling. In fact, after only a day of rest many kids return to normal activities, and some can even go back to school on the same day.
Sedation
Our team wants to help children feel comfortable and relaxed when they undergo treatment. Which is as part of our restorative treatments, we will administer sedation. We could offer nitrous oxide, which is administered through a gas form to help kids enter a calm state, or deep forms of sedation with oral sedation or IV. We will monitor your children the entire time, and the option we choose is based on their anxiety levels, age, weight, and medical history. Even if your child has special needs or high anxiety levels, this can help them undergo necessary treatments to improve oral health!
If you have any questions about restorative dentistry, or about the lifelike restorations we can place, then contact our team today to learn more.
Your Dallas, TX, Pediatric Dentist Offers Improved Oral Health
If you want to find out more about repairing little smiles, or if you would like to schedule an appointment for restorative treatment options, we invite you to contact your Dallas, TX pediatric dentist, Dr. Marr, by calling (214) 321-4880.

filed under: Restorations for Kids