Why Children Need Dental Cleanings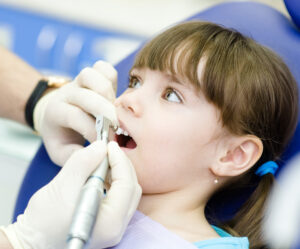 Kids need to have a cleaning every six months starting at age two. Just like you, plaque and tartar buildup could cause serious trouble for little smiles, and only a professional cleaning can remove the buildup. In today's blog, your Dallas, TX, pediatric dentist talks about why kids need this treatment, and what to expect from these visits.
The Impact of Plaque on a Child's Smile
When kids eat foods and consume beverages with lots of sugar and starch, this leaves behind particles on or between the teeth. These will be broken down by harmful oral bacteria, which elevates oral acidity and coats the teeth in a layer of plaque buildup. The layers garden into tartar and cannot be removed with brushing and flossing alone. The buildup will weaken and erode the outer enamel to increase the risk of tooth decay and dental infection, and these same layers are also linked to bad breath and stained teeth. Which means to protect their oral health, they should see us for a cleaning every six months.
Dental Cleanings
The dental cleaning involves the use of an ultrasonic scaling device and a manual pick to remove all plaque and tartar buildup gently and thoroughly from the teeth. We then polish the teeth to smooth the surfaces and brighten them too. The procedure helps lower the risk of cavities and gingivitis, and can help kids enjoy brighter smiles and fresher breath. In the same visit, we can also discuss treatments to aid in cavity prevention, such as fluoride gel to strengthen the outer enamel. We can also place dental sealants to coat the rear teeth and lower the risk of cavities in the removable parts of the smile. The layers can actually stay in place for up to ten years in some cases!
Keeping Them Safe at Home
You can also help safeguard their smiles with good oral hygiene habits at home. Make sure your little ones brush their teeth twice a day, and use a fluoride toothpaste. Kids three and younger need a rice sized amount of fluoride toothpaste, and everyone else should use a pea sized amount. Flossing is also vital and should happen every evening before they brush for the second time. If you have any questions about removing plaque, or about good oral hygiene habits to lower their cavity risk, then contact our team today to learn more.
Schedule a Visit With Your Dallas, TX, Pediatric Dentist to Keep Smiles Strong
If you want to find out more about keeping little smiles clean and healthy, or if you would like to schedule an appointment for your children for their next dental cleaning, we invite you to contact your Dallas, TX pediatric dentist, Dr. Marr, by calling (214) 321-4880.

filed under: Preventive Treatments