Cleanings For Little Smiles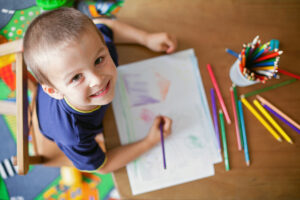 We recently talked about a dental checkup and why kids need to have one. But what about the cleaning portion? A dental cleaning will help fight everything from bad breath and teeth stains to tooth decay and even gingivitis. In today's blog, your Dallas, TX, pediatric dentist talks about why smiles need to be cleaned.
Dental Cleanings
The cleaning process involves our team using an ultrasonic scaling device and a manual pick to thoroughly (but gently) remove all plaque and tartar buildup from the surfaces of your smile. The process only takes a few minutes, and we complete it by polishing your teeth for a brighter appearance and a smoother feel. The process is beneficial for kids and adults alike, and you should have one every six months starting as early as age two. If you have high risk factors for gum disease, we could offer a version that also removes the buildup for the exposed roots as well, known as a scaling and root planing. This can help reverse gingivitis, or allows us to begin managing gum disease to prevent the later stages linked to painful symptoms and tooth loss!
The Benefits of Fighting Plaque and Tartar
Plaque forms when oral bacteria break down the particles of sugar and starch left on our teeth from the foods we consume. Kids are especially at risk as they not only have a sweet tooth, but often forget to brush and floss and may not do so properly. Which means the buildup will adhere into tartar, which cannot be removed no matter how well your child brushes and flosses. The buildup then weakens outer enamel to cause cavities, and could inflame gum tissues in older kids to cause gingivitis. A cleaning helps protect the teeth and gums, so your kids can smile with confidence and avoid uncomfortable symptoms and missing teeth!
Better Homecare Habits
You can also help in between these office visits with good oral hygiene habits at home. Make sure your kids are limiting their consumption of sugary snacks each day, and drinking plenty of water. They should brush and floss daily to remove stray food and drink particles, controlling plaque buildup until they can see us for a dental cleaning. If you haven't scheduled a visit lately, you can do so now and use your 2022 dental benefits before they expire at the end of December. If you have any questions, feel free to give us a call today!
Your Dallas, TX, Dentist Protects Little Smiles
We would like to help protect children from the onset of tooth decay or infection. If you have any questions about addressing poor oral health, then contact your Dallas, TX pediatric dentist, Dr. Marr, by calling (214) 321-4880.

filed under: Preventive Treatments