How We Examine Your Child's Smile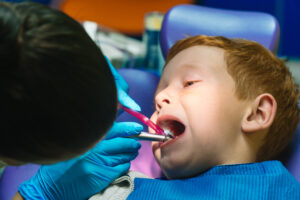 We want to see your child for a visit every six months. These checkups help us monitor smiles and allow your children to maintain good oral health. But why do kids need an exam, and what does this process involve? In today's blog, your Dallas, TX, pediatric dentist talks about our dental exams for children.
Why Kids Need a Dental Checkup
As your children grow, so does their smile. But sometimes, complications could arise along the way that cause problems, such as baby teeth not erupting properly or falling out on time, or permanent teeth arriving uneven or impacted. In addition, cavities could develop, as could gingivitis, which cause discomfort and in time, could threaten the stability of the tooth. A checkup means a chance to examine the smile and identify these concerns early, often before discomfort develops. We recommend an initial visit at around age one, and regular visits every six months starting at age two.
Digital X-Rays
In addition to a visual exam, we want to see everything happening in your child's smile, including what's invisible to the naked eye. To do this, we use advanced digital x-rays instead of traditional ones. These don't involve your children biting down on a set of bitewings, and are much simpler and quicker to take. They don't need to be developed in harsh chemicals either, and are available to view instantly chairside, so we can talk to your child about the diagnostic process and what we see. This could enable us to see the earliest signs of tooth decay, identify the position of the teeth that haven't erupted, and assess bite imbalance and more. Our team then offers a more accurate and precise diagnosis.
Cleanings and Preventive Treatments
In the same visit, our team will also clean their teeth, a process that involves gently and through breaking up and removing all plaque and tartar buildup. Doing this helps lower the risk of tooth decay, and can fight periodontal issues as well. Kids also enjoy fresher breath, and a reduced risk of teeth stains. Unique preventive visits could also be applied to help fight cavities, such as fluoride gel to strengthen the outer enamel, or dental sealants to prevent food from becoming caught between the rear teeth, which are hard for kids to breach when they brush and floss. If you have any questions about our dental exams for little smiles, then contact our team today to learn more.
Schedule an Exam Today
Our team is eager to help your children maintain good oral health and a better understanding of their smiles. If you have any questions about treatments for little smiles, then contact your Dallas, TX pediatric dentist, Dr. Marr, by calling (214) 321-4880.

filed under: Children's Dental Services