Why Pediatric Dental Care Changes With Age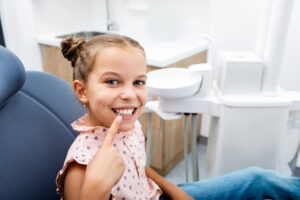 As kids continue to grow, they absorb new information, develop the knowledge and motor skills to take on new tasks, and feel more comfortable in environments that were once new and intimidating. Supporting their growing smiles calls for an approach to care that adjusts with their needs and their physical development. Fortunately, you can find that pediatric dental care offered at our Dallas, TX practice provides support that changes to suit the needs of our growing patients. Starting with their first appointment, we can make young patients feel at ease as they adapt to new surroundings. From there, we can continue to support them by monitoring the development of their oral structures, offering guidance on at-home smile care, and providing the kind of preventive dental services that help people of all ages remain safe from threats.
Kids Require Different Kinds Of Support From Their Dentist As They Grow Up
While the monitoring of teeth and oral structures is important for people of all ages, reviews are especially helpful in pediatric dentistry. The changes that affect your child's smile go beyond the loss of their primary ("baby") teeth and their replacement with secondary ("adult") teeth. The jaw structures grow and change, too. In addition to keeping up with these developments and making sure they are progressing in the right way, we help kids keep up with oral hygiene between appointments. At first, that means providing information to parents who protect their little ones' teeth and gums. At the right age, we can begin oral hygiene lessons with our patients so that they can successfully protect themselves.
Working With Our Youngest Patients
From their initial visit forward, we take care to help our newest and youngest patients feel welcome in our office. At their first appointment, we can take care to introduce your child to our practice and team members to put them at ease, and we can provide a gentle visual examination. This is also a time where parents can gain information on how to care for their baby's gums and still-arriving teeth.
Our Commitment To Keeping Your Child's Growing Smile Healthy
As they mature, kids begin to do more for themselves. One task they will take on at a young age is brushing and flossing for themselves. We can assist with this by providing guidance in the office during their appointments. We provide these instructions in addition to the kinds of preventive dental services that help patients of all ages avoid problems with dental decay, gum disease, and more. In addition to looking out for those threats that can affect us at any time, we provide conservative dental fillings and crowns as needed, and we monitor for developmental issues that should be watched or treated.
Our Dallas, TX Pediatric Dental Office Can Help Your Kids Maintain Healthy Smiles!
We are happy to provide your children with the kind of pediatric dental care that supports them as they grow! For more information on our office and services, contact your Dallas, TX pediatric dentist, Dr. Marr, by calling (214) 321-4880.

filed under: Preventive Treatments