Why Your Kids Need A Preventive Visit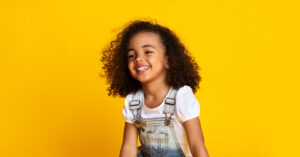 Just like you, kids of all ages need to undergo routine preventive treatments about once every six months. During these visits we not only examine and clean the smile, but we also offer your kids unique treatments to prevent cavities. In today's blog, your Dallas, TX, pediatric dentist talks about why kids benefit from a preventive visit.
Checkups and Cleanings
The checkup is a chance to sit down with your child, ask him or her about how they care for their smile, and to also carefully examine the teeth and gums with advanced digital technology. From there, we complete a diagnosis that identifies any areas of concern that need treatment, before your child develops complications that cause discomfort or issues with a tooth's stability. In the same sitting, we will also clean the teeth. The cleaning removes all harmful plaque and tartar buildup, which lowers the risk of cavities and gingivitis, while also brightening the teeth.
Fluoride and Dental Sealants
During the checkup visit, we could apply a fluoride varnish to the teeth, since fluoride helps strengthen the protective layer of enamel. Doing so could lower the risk of cavities forming in between your kid's next visit. In addition, we have dental sealants for those with high risk factors for cavities. This is an acrylic layer added to the rear teeth, which are often difficult for kids to reach when they brush and floss each day. The sealants prevent food from becoming stuck between the teeth, lowering the risk of cavities. They can stay in place for between five and ten years on average wearing away with time!
Using Your Benefits
When you see us now, your kids can undergo their exam and cleaning, and receive preventive treatments, before the holiday season makes your schedule too hectic. They're able to greet 2022 with a brighter and healthier smile! In addition, if you have dental insurance coverage you have a chance to use your benefits before they expire on December 31st. Instead of losing the benefits you've paid for, why not let them cover treatments for your child's smile? Our office staff can help you understand your coverage amounts so we can plan care that fits your budget and your schedule.
If you have any questions about our approach to children's dentistry, or if your child is overdue for a six-month checkup and cleaning visit, then please contact our team today to learn more!
Talk to Your Dallas, TX Dentist's Office About General Dentistry
We would like to help your children enjoy good oral health with preventive dentistry. To schedule your child's next checkup and cleaning visit, or if your child has other oral health issues that need attention, then contact your Dallas, TX pediatric dentist, Dr. Marr, by calling (214) 321-4880.

filed under: Preventive Treatments