Healthy Holiday Smiles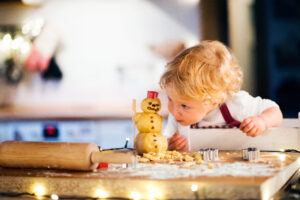 During the holiday season, we want kids to enjoy their time out of school and their new gifts, while also protecting their smiles. In today's blog, your Dallas, TX, pediatric dentist talks about how to protect little smiles, from daily oral hygiene habits, to some smile-healthy stocking stuffers!
Fun Stocking Stuffers
Instead of filling their stockings with tons of sugary sweets and other cavity-causing items, why not include some fun selections that keep smiles healthy? You can pick up an electric toothbrush with their favorite cartoon characters on them, fun flossers, and other items to make caring for their teeth fun. You could also include fresh fruit in lieu of candy, as these are also fun and sweet treats. You can also do this for the adults in your life too, give them the gift of better oral health in the new year.
Watch Out For Sugar
Throughout the holiday season, kids often consume tons of sweets, from holiday cookies to Christmas tree cakes. Not to mention hot chocolate and other fun treats. While these are a great treat for the holiday season, too much of a good thing could leave particles of sugar and starch behind for bacteria to break down, a process that causes bad breath, stained teeth, and a high risk of tooth decay. Try to limit their consumption of sugary treats, and encourage them to drink water with them to rinse away trapped particles.
Good Oral Health Habits
One major way to protect your child's smile is with good oral hygiene habits. Even during the holidays, make sure your kids are brushing in the morning and again at night for about two minutes each session. Kids three and younger should use a rice sized amount of fluoride toothpaste, and kids older than three need a pea sized amount. Children also need to floss before bed too to remove what a toothbrush alone cannot reach.
Be sure to bring your children in for a final checkup and cleaning of December, as there is still time to see us and use your 2022 dental insurance benefits before they expire at the end of the month. Let's work together to help protect your children's smiles. We could even offer an additional layer of protection with fluoride gel and dental sealants, which strengthens the smile against cavities. If you have any questions about protecting little smiles during the holidays, then contact our team today to learn more. We're here to help your kids enjoy optimal oral health!
Do You Have Any Questions?
We would love to help your children start 2023 with healthy smiles, or if you would like to schedule an appointment, we invite you to contact your Dallas, TX pediatric dentist, Dr. Marr, by calling (214) 321-4880.

filed under: Children's Dental Services