Keeping Little Smiles Healthy During The Holidays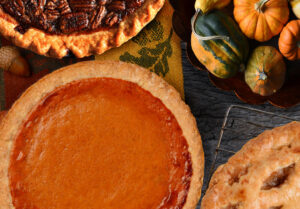 Thanksgiving and the holiday season are fun for everyone in the family, especially for children. But too many foods high in sugar and starch could lead to the onset of tooth decay. In today's blog, your Dallas, TX, pediatric dentist talks about how to help safeguard children from cavities during the holiday season.
The Dangers of Sugar and Starch
Many popular holiday options like biscuits, muffins, mashed potatoes, sweet potato casserole, and stuffing are high in starch, and desserts like cookies, pies, and cakes have a lot of sugar. These particles tend to attach themselves to the teeth and become stuck between them, left for bacteria to break down. This creates a layer of bacterial buildup known as plaque. The buildup could weaken enamel to make tooth decay possible, and also lead to bad breath and teeth stains. Which is why we recommend actions to help protect your child's smile during your holiday meals!
Good Oral Health Habits
We suggest eating items high in sugar and starch in moderation, balancing them with fresh fruits and vegetables. Some items, like carrots, broccoli, and apples, could help scrub away particles of food as you eat them. Drinking water with your meal is recommended as well, as this helps cleanse the mouth of stray food and drink particles. You and your kids can also excuse yourselves to floss after your meal too. Be sure your children are maintaining good oral hygiene habits, including bruising twice a day with a fluoride toothpaste for two minutes, and flossing every evening. These actions help reduce the severity of plaque buildup until you can see our team for a checkup and cleaning visit.
The Last Checkup Visit
You still have plenty of time to schedule an appointment with our team for a checkup and cleaning. This means we take time to thoroughly examine the teeth for signs of trouble. We then create treatment plans to address them, often in only one visit. We will clean the teeth as well, removing plaque and tartar buildup from the teeth and polishing them. Kids then enjoy stronger teeth, a lowered risk of tooth decay, and a brighter smile too. You can see us now before your schedule becomes complicated, and before your 2022 dental insurance benefits or health savings account funds expire at the end of the year.
If you have any questions about protecting little smiles, then contact our team today to learn more.
Your Dallas, TX, Dentist is Here to Keep Smiles Healthy
We would like to help children avoid holiday-season related tooth decay. If you have any questions about protecting little smiles from tooth decay, then contact your Dallas, TX pediatric dentist, Dr. Marr, by calling (214) 321-4880.

filed under: Preventive Treatments