Keeping Smiles Healthy During Winter Break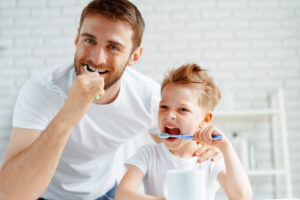 Thanksgiving break just ended, but before you know it your kids will be out for a two week winter break. During this time, kids could become lax in their brushing and flossing habits, or eat a little too much sugar. In today's blog, your Dallas, TX, pediatric dentist talks about tips for keeping smiles healthy during winter break.
Brushing Teeth
Make sure your children always take time to brush their teeth twice a day. Each session should last about two minutes, and you can help time them with a fun song or video. In addition to an age-appropriate toothbrush, we suggest a toothpaste that contains fluoride. This could help strengthen the outer enamel to help cavities remain at bay. Kids need to brush when they wake up and then again before going to bed. Even during holiday events, make sure they continue to stick to this schedule!
Flossing
We also recommend kids floss every evening before bed, as this removes the trapped food particles your toothbrush bristles may not reach. Young kids can have an easier time using a floss pick, and this can help adults who need to assist their children. Once your kids have improved dexterity, they can use floss tape like you do. Be sure to clean up and down each side of every tooth, and dip below the gum line too. This helps fight bad breath, teeth stains, and yes, cavities and gingivitis.
Watching Your Kids' Sugar Intake
Be sure your kids enjoy items high in sugar and starch in moderation, as bacteria will consume these particles and create a plaque buildup that weakens and erodes the outer enamel. Try to encourage them to drink water with their sweets, and offer healthy alternatives like fresh fruits and vegetables. You can also schedule a visit to see us before the year ends and your 2022 dental insurance benefits expire. In addition to a checkup and cleaning, we could also provide preventive treatments to fight tooth decay. Fluoride gel applied to the teeth can keep the enamel strong. Dental sealants applied to the rear teeth can keep food particles from becoming stuck between, and sealants could stay in place for up to ten years in some cases!
If you have any questions about scheduling a checkup and cleaning, or about maintaining good oral hygiene habits at home, then contact our team today to learn more. A stunning and healthy smile is always possible, so give us a call!
Does Your Child Need a Checkup and Cleaning Visit
If you have any questions about keeping your child's smile healthy and strong, or if you would like to schedule an appointment, we invite you to contact your Dallas, TX pediatric dentist, Dr. Marr, by calling (214) 321-4880.

filed under: Preventive Treatments