Talking To Your Kids About Brushing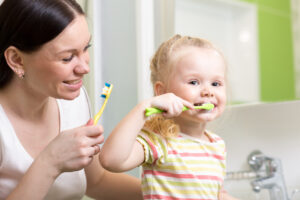 To avoid cavities and dental disease, you take time to brush your teeth every day. Well, kids need to do the same thing! Taking time to brush every day, and to do so properly helps prevent bad breath, cavities, and more. In today's blog, your Dallas, TX, pediatric dentist talks about good brushing habits.
When Do Children Start Brushing?
Basically, as soon as a tooth arrives! The first tooth will arrive at about age one, and you can clean it with cloth or a special brush that fits over your finger. As more teeth erupt, you can upgrade to a toothbrush meant for babies and toddlers. Tooth decay in babies is common, as kids going to sleep with bottles or sippy cups of milk and juice coat the teeth in particles of sugar, and could weaken enamel to cause cavities.
What Brushes and Toothpastes Do They Need?
At each stage of their life, they will need an age-appropriate option, as this will work best with the limits of their dexterity at each age. These also often have favorite movie or cartoon characters on the packaging and brushes, which makes the process more fun for children. We would be happy to recommend some options! As for toothpastes, fluoride is essential as this helps strengthen the outer layers of tooth decay, lowering the risk of cavities. Looking for the American Dental Association (ADA) Seal of Acceptance on the packaging, or for the word "fluoride". Kids three and younger should use a rice-sized bit, and kids over the age of three need a pea-sized amount. As soon as there are teeth sitting side-by-side, flossing is recommended too, and should happen every evening. Kids should brush in the morning when they wake up, and then once more before going to bed.
Professional Cleanings
Children should also see our team for a checkup and cleaning appointment too! This is recommended every six months starting at around age two (the first visit should happen at about age one, when the first baby tooth arrives). These visits allow us to monitor the smile as it grows and develops, identifying areas of concern and treating them quickly. We also clean the teeth, a gentle process that removes all plaque and tartar from the surfaces to limit the risk of tooth decay and gingivitis. If you have any questions about how we treat poor oral health in childhood, then contact our team today.
Your Dallas, TX, Pediatric Dentist Talks About Brushing Teeth
We would love to help kids of all ages better understand how to care for their smiles at home. If you would like to find out how to help protect children from the onset of cavities and gingivitis, then contact your Dallas, TX pediatric dentist, Dr. Marr, by calling (214) 321-4880.

filed under: Preventive Treatments