Preparing Your Kids For Their First Visit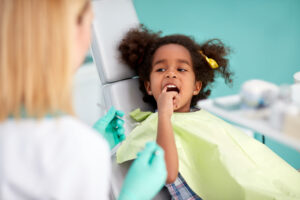 Do you have children soon to see the dentist for the first time? We want to make sure your kids don't feel too nervous, and that they know what to expect. In today's blog, your Dallas, TX, pediatric dentist talks about how to help prepare kids for their first visit, and the benefits of routine oral hygiene habits for kids.
Talking to Your Children
First, when you schedule your visit let your children know they'll be visiting the dentist. Talk to them about how the visit is all about keeping their smiles healthy and strong. Try to talk about how "pain-free" or how "it won't hurt" because that will instantly make them think the opposite. Instead, focus on the benefits of healthy smiles, and how much fun seeing the dentist can be. Our team is experienced in speaking with kids and helping them feel comfortable and relaxed too!
Arriving at the Office
When you arrive, you will enter the waiting room and our team will provide any necessary paperwork to fill out. When your child's name is called, you will both proceed back to meet the hygienist and dentist, and an exam will be conducted.
The Exam
We will walk your children through each step of the exam, and let them know about the tools and technology we're using. We will answer any questions your children have. For children around age one undergoing their first exam, this will be a knee-to-knee lap exam. For kids two and older, we will take a look at their smiles with digital x-rays and intraoral camera technology. We will diagnose any areas of concern, watching for cavities, gingivitis, and issues with primary teeth erupting and falling out, and possible complications with the arrival of permanent teeth. We can also administer fluoride gel and dental sealants to help safeguard teeth against the onset of tooth decay, so they enjoy healthy and comfortable smiles.
Moving Forward
If we discover any areas that need treatment, we will create a treatment plan to improve the health, function, and even beauty of your child's smile. Now is a great time to see our team, as your child can undergo the last checkup and cleaning of 2022, and start a new year with a healthier smile. Any remaining 2022 dental insurance benefits can be used as well, before they expire at the end of December. If you have any questions about checkups and cleanings for children, or about any of our other treatment options, then contact our team today.
Schedule a Visit Soon!
If you have any questions about protecting little smiles, or if you would like to schedule an appointment, we invite you to contact your Dallas, TX pediatric dentist, Dr. Marr, by calling (214) 321-4880.

filed under: Preventive Treatments