Starting Care With Your First Visit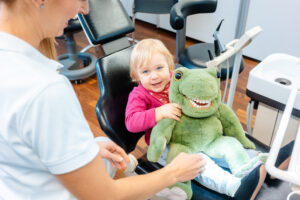 When your children need to see the dentist, and it's their first visit to a dentist or the first time at our office, we can offer a few tips. In today's blog, your Dallas, TX, pediatric dentist talks about what the first visit will involve, and how we can all work together to help your kid enjoy healthier and brighter smiles.
When to Seek Treatment
Once your child's first baby tooth erupts, we suggest an initial visit. This visit usually involves a simple knee-to-knee lap exam, and rarely involves any treatment. Otherwise, kids should start visiting our office every six months for a checkup and cleaning appointment starting at age two. Regular visits help us monitor the smile for signs of trouble, so we can help kids enjoy healthier smiles and avoid the onset of cavities and gingivitis.
The First Visit
When your child arrives, we will check them in and you will likely fill out some paperwork. Our team will greet them and make them feel welcome! The waiting area has TV and free Wi-Fi to keep your child entertained. When a staff member calls your child's name, you and your little one will follow them to meet the dentist. The dentist will talk to our child about why they're visiting, and ask about daily oral health habits. We will discuss any tools we use and answer your child's questions. Then we will proceed with the checkup and cleaning!
The Checkup
The dental checkup means we look closely at the teeth, gums, roots, and oral structures to make sure there isn't a risk of misalignment, and to assess the presence of cavities and gingivitis. To offer a diagnosis with precision and accuracy, we will use digital x-rays and intraoral cameras. If we find an issue that needs care, we can create a personalized treatment plan to address the issue in a follow-up visit. In many cases, we can address common problems in a single visit, such as using a filling to treat a cavity.
Cleaning
In the same sitting, we will also clean the teeth, which means removing all harmful plaque and tartar buildup. The cleaning helps freshen breath and brighten teeth too! We can also discuss better at-home oral health habits to help you and your children enjoy better oral health. If you have any questions about the checkup and cleaning visit, or if you would like to schedule a visit soon, then contact our team today to learn more.
Make an Appointment with Your Dallas, TX, Dentist!
We want to help your kids to enjoy their first visit. If you have any questions about treating little smiles, then contact your Dallas, TX pediatric dentist, Dr. Marr, by calling (214) 321-4880.

filed under: Family Dentistry