Protecting A Child's Smile During The Holidays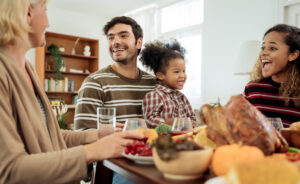 Throughout the holiday season, your child will be tempted by a number of sugary treats that could eventually increase the risk of cavities. Which is why in today's blog, your Dallas, TX, pediatric dentist wants to talk about tips for safeguarding your child's smile throughout December, from home care to visits for a checkup and cleaning.
Watching What They Eat and Drink
Holiday themed snack cakes, cookies, pies, candy canes, these are just a few of the sweet treats available to kids through the month of December. While delicious, too much of a good thing could mean cavities. Many of these selections contain high amounts of sugar and starch, which cling to the teeth and are broken down by bacteria, allowing a cavity to form. In addition, sodas, energy drinks, sports drinks, and even fruit juices could also contain high amounts of sugar. When bacteria break down these particles, this causes plaque and tartar to accumulate on their smiles, leading to issues like tooth decay and even dental infection. Try to offer healthier choices, like fresh fruit and veggies, and plenty of water!
Better At-Home Habits
Even when your kids are on holiday break, make sure they continue to take proper care of their smiles. This means taking time to brush and floss each day. Children need to brush in the morning and again at night, using an age-appropriate toothbrush and a rice-sized blot of fluoride toothpaste. They also need to floss every evening as soon as there are teeth sitting side-by-side. These actions help remove particles to limit the risk of cavities, and also help fight bad breath and teeth stains too. You can monitor your kids and let them use a song to time them, as each session of brushing should take two minutes!
Use Your Benefits  
Time is also running out to use your dental benefits before they expire! Dental insurance benefits will be gone at midnight on December 31st unless used, so why not schedule your child's last checkup and cleaning visit of 2021 soon? We would love to see your child, and to help him or her greet 2022 with a stronger and healthier smile. If you have any questions about using your benefits, or about setting up a visit for your child, then contact our team today. We would love to see you soon!
Talk to Your Dallas, TX Dentist's Office About Dental Hygiene
We want to help kids of all ages in our community enjoy good oral health throughout December. To schedule a visit for your little ones soon, then contact your Dallas, TX pediatric dentist, Dr. Marr, by calling (214) 321-4880. There is still time to address issues like tooth decay before the year comes to a close.

filed under: Preventive Treatments