3 Exciting Holiday Events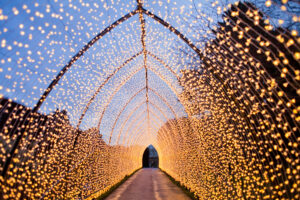 We know that Halloween just ended, but people can't wait for the holiday season to begin. With that in mind, this Friday we're looking at a holiday tradition in Dallas, and two other fun activities your family can enjoy. Your Dallas, TX, pediatric dentist would also like to remind people to schedule the last checkup and cleaning of 2022 for their kids!
Holidays at the Arboretum
Holidays at the Arboretum begins November 10th and will last through December 31st. This event takes place daily at 8525 Garland Road. Displays will include a Christmas Village, the 12 Days of Christmas, and a Musical Tree. The historic DeGolyer House will be decorated by designer Michael Hamilton for the holidays, and there will be a new exhibit about the diversity of the season called The Artistry of Faith and Culture. You and your family can enjoy displays and facts about Christmas, Hannukah, and Kwanzaa. A fun event for your entire family to enjoy!
Play Day for a Cause
This event is free for families and helps support Family Promise, a national nonprofit that helps stop family homelessness. The event is hosted by Kiddie Academy of Far North Dallas. Donations are encouraged, but the entry and events are free for everyone. This takes place Saturday, November 5th starting at 10am.
Family Fun Day
Family Fun Day is hosted by the Dallas Museum of Art, located at 1717 North Harwood in Dallas, TX. The day will include a ton of free activities for the entire family, all designed to inspire creativity. There will be art activities, story time, performances, family tours, and a chance to meet and work with local artists. A member day to be sure! The event takes place Saturday, November 5th from 11am until 4pm.
See Us Soon
When the holiday season is in full swing, you may find your schedule is pretty complicated. Which is why now is a great time to schedule a visit with our team for your child's last checkup and cleaning of 2022. Your kids can start a new year with a better smile, and avoid painful complications like tooth decay and gingivitis. You also have a chance to use your remaining 2022 dental insurance benefits or health savings account funds before they expire at the end of December. If you have any questions about our treatment options for kids, or about scheduling a visit and using your benefits, then feel free to give us a call.
Your Dallas, TX, Dentist Offers Children's Dentistry
Good oral hygiene can help kids enjoy bright and healthy smiles for years to come! If you have any questions about protecting little smiles of all ages, then contact your Dallas, TX pediatric dentist, Dr. Marr, by calling (214) 321-4880.

filed under: Community Events