Helping Your Kids Brush And Floss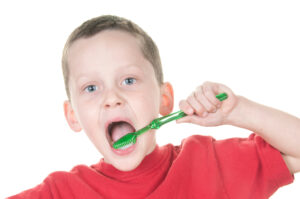 Children need to see us every six months for a checkup and cleaning, but in between these visits good oral hygiene at home is absolutely crucial. Which is why we want to help with a few tips on proper brushing and flossing! In today's blog, your Dallas, TX, pediatric dentist talks about helping kids brush and floss.
Starting Daily Oral Hygiene Habits
Children need to have their teeth cleaned as soon as the first primary teeth erupt. For kids ages one to two, you can use cloth or a toothbrush that fits over your finger to gently clean their teeth twice a day. As they grow older, you can assist them with an age-appropriated toothbrush and a rice sized amount of fluoride toothpaste. Once they're past the age of three, they'll likely be brushing on their own, but you can make sure they continue to do so properly. Each session should take at least two minutes, and once they're older than three a pea-sized amount of fluoride toothpaste will be recommended. You can time them with a fun song, video, or podcast, or even a sand timer. These actions help limit plaque buildup and fight cavities and even gingivitis.
Kids Need to Floss!
While brushing is very effective and necessary, it doesn't reach what's trapped between the teeth. For these situations, your children will need to floss. For young kids, you can assist them with a floss pick, or they can use one on their own. As they grow older and dexterity improves, they can graduate to floss tape. Essentially, the floss should move up and down each side of every tooth, and dip below the gum line as well. This helps fight bad breath, teeth stains, cavities, and even gingivitis.
Use Your Benefits
Kids also need to see us every six months for a checkup and cleaning! If you haven't seen us lately, then make a visit soon. Your children can receive an exam and cleaning, and any necessary treatment, before the hectic holiday season arrives and before your dental benefits expire at the end of December. The same goes for any health savings funds. Don't let these expire without being used, and make sure your child starts a new year with a healthy and beautiful smile!
If you have any questions about protecting little smiles, or if you would like to set up an appointment, then contact our team today.
Your Dallas, TX, Dentist Discusses Preventive Dental Care
We would like to help kids of all ages maintain good oral health from home. If you have any questions about caring for little smiles from home, then contact your Dallas, TX pediatric dentist, Dr. Marr, by calling (214) 321-4880.

filed under: Children's Dental Services