Kids Benefit From Routine Dental Cleanings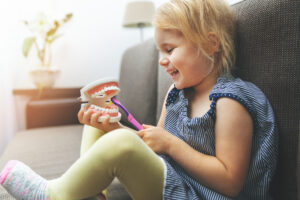 We just looked at how kids benefit from an exam every six months. In the same visit, we also clean the teeth too, which lowers the risk of common oral health problems. In today's blog, your Dallas, TX, pediatric dentist talks about how children of all ages benefit from having their teeth professionally cleaned.
The Causes of Plaque Buildup
The goal of the procedure is to remove all plaque from the teeth, as well as tartar (calcified plaque). The buildup occurs due to a number of factors. When we eat foods high in sugar and starch, or drink beverages with a lot of sugar, this leaves behind particles that feed harmful oral bacteria. As bacteria break down these particles, oral acidity rises and the teeth become coated in plaque. Lack of proper brushing and flossing is a factor, as this leaves the particles in place. Infrequent dental cleanings also allow these layers to harden and grow in severity.
The Dangers for a Child's Smile
The buildup not only makes teeth stains more visible, but can lead to bad breath too. In addition, over time these layers begin to weaken and erode the outer enamel, exposing the inner dentin to bacteria and allowing cavities to form. For older children, this could also irritate and inflame gum tissues, leading to gingivitis. Cavities could cause painful symptoms, and also lead to the premature loss of primary teeth, a major factor in the onset of dental misalignment. To protect the health, function, and beauty of your child's smile, we need to tackle this buildup and remove it completely.
Dental Cleanings
Using an ultrasonic scaling device and a manual pick, we will gently and thoroughly remove all plaque and tartar from the surfaces of the teeth. We then polish the teeth for a smoother finish and a brighter appearance. The entire process takes only a short time. In the same visit, we can help strengthen the outer enamel with a fluoride treatment, or discuss the placement of dental sealants to prevent cavities from forming in the hard-to-reach rear molars. At home, you can help limit how plaque develops before the next cleaning by making sure your child brushes twice a day and flosses every evening too.
If you have any questions about how to protect little smiles with preventive dentistry, or about scheduling your child's next appointment, then contact our team today to learn more. We want to help your kids obtain healthy and strong smiles!
Schedule A Visit With Your Dallas, TX, Team Today!
We're ready to improve little smiles by removing all plaque and tartar buildup completely. If you have any questions about our checkup appointments for kids, then contact your Dallas, TX pediatric dentist, Dr. Marr, by calling (214) 321-4880.

filed under: Preventive Treatments