How We Extract A Child's Tooth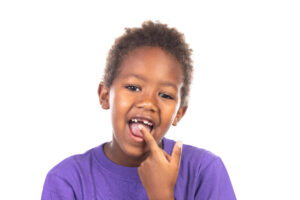 Sometimes, a tooth cannot be repaired with a filling or a crown. While our primary goal is to preserve teeth when possible, we sometimes need to remove a tooth to prevent serious trouble. In today's blog, your Dallas, TX, pediatric dentist talks about when we extract teeth, and how we ensure the process is a comfortable one.
When Does a Tooth Need to Be Removed?
We may need to extract a child's tooth if a baby tooth hasn't fallen out as it should, or if a tooth is too decayed or infected to be treated with a filling or pulpotomy. Likewise, if one is too damaged to be repaired with a dental crown. Our team could take out teeth to make room for orthodontic care, or to help with treatment to improve chewing function and bite balance. For teens, we could discuss removing wisdom teeth before they erupt, which could lead to major discomfort and misalignment. Essentially, when a tooth poses a threat to the whole smile, we can take action to prevent this from occurring.
Dental Sedation
We know that the idea of oral surgery and tooth extraction can seem scary to children, but we always take time to talk to them about their concerns and answer their questions, so they feel comfortable. We also want them to avoid discomfort. We will offer a local anesthetic for the area around the tooth or teeth being removed. We also have dental sedation to help them enter a calm and relaxed state, with a trained anesthesiologist monitoring them the entire time.
The Extraction and Aftercare
To begin, our team will take detailed digital x-rays to assess the portion of the tooth and to plan the treatment with detail. We then administer anesthesia and sedation and once your child is comfortable, our team will gently extract the tooth with a pair of forceps, and suture the site closed. Your little one may be a bit groggy, so they won't be able to return to school. For the first couple of days, be sure they rest and take any prescribed medications as instructed. Offer soft foods and ensure they're very gentle when brushing and flossing. Make sure they don't prod or poke the site with their fingers or tongue, as the area needs to clot as part of the healing process. We can remove sutures in a follow up visit and make sure everything is healing as it should.
Your Dallas, TX, Dentist Offers Restorative Treatment for Kids
We want to help your kids enjoy their time in the office. If you have any questions about protecting kids from the onset of serious oral health issues, then contact your Dallas, TX pediatric dentist, Dr. Marr, by calling (214) 321-4880.

filed under: Restorations for Kids