How We Comfortably Extract A Tooth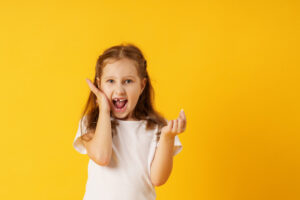 In some cases, a tooth stands in the way of good oral health or could be too decayed or infected for treatment with a filling or crown. In these situations, preventing further harm to the smile may mean removing the tooth completely. In today's blog, your Dallas, TX, pediatric dentist talks about tooth extraction.
When a Child Needs a Tooth Removed
We may suggest taking out a tooth that has been severely decayed or infected, to the point that a filling, crown, or pulpotomy can no longer restore it. Extraction could prevent the spread of infection and safeguard surrounding teeth. Our team could also remove a severely damaged tooth, or to make room for orthodontic treatment. Teeth could also be taken out to help improve bite function and chewing capability. For teens approaching adulthood, wisdom teeth could be extracted to prevent painful impaction, misalignment, and other serious changes to the health, function, and beauty of the smile.
Ensuring Your Child Is Comfortable
We want to make sure your little one is relaxed and comfortable during the procedure. We can administer a local anesthetic, and also discuss dental sedation. With sedation dentistry, we could use nitrous oxide, oral sedation, or IV sedation to help kids with anxiety and special needs remain calm and comfortable throughout the entire process. The option we recommend will depend on their age, weight, medical history, and anxiety levels.
The Tooth Extraction Process
The process is simple. Once your child is prepared, we will gently remove the tooth in question with a pair of forceps. Once we do, our office will suture the extraction site closed. You can then bring your little one home. We will provide detailed aftercare instructions and also prescriptions for medication to keep your child comfortable as the area heals. They should avoid prodding the site with their tongue or finger, as clots need to form. For the first day or two, they should rest and eat soft foods. Be very gentle when brushing and flossing. We can remove sutures in a follow up visit.
If you have any questions about our treatment options, or how we can help kids stay comfortable and enjoy their visit, then contact our team today to learn more. We want to help children of all ages in our community enjoy good oral health and bright smiles for years to come!
Your Dallas, TX, Dentist Provides Restorative Dental Care
We would like to help children avoid the complications of a severe cavity or infection with restorative treatment options. If you have any questions about how we treat poor oral health and bring relief for little smiles, then contact your Dallas, TX pediatric dentist, Dr. Marr, by calling (214) 321-4880.

filed under: General Dentistry