Pediatric Dentistry And Oral Hygiene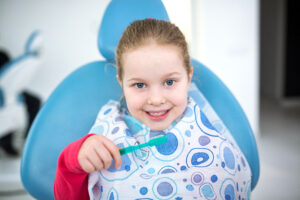 Your child's smile depends on your protection from an early age, but you can count on your dentist's help to keep their teeth and gums safe from harm. Regular pediatric dental checkups provide feedback on developing smiles as well as support through examinations and cleanings to remove tartar and plaque. Consistent protection will help them stay safe from tooth decay, which can have a disruptive effect on their development. In addition to providing help with dental hygiene directly, our Dallas, TX pediatric dental office can offer guidance to our young patients and their parents to ensure good oral health habits are formed and practiced consistently between visits.
​What Role Do Dental Visits Play In Helping Your Child Maintain A Healthy Smile?
Dental exams for kids provide support that can change over time. Their initial visits help them feel comfortable in our office and while receiving care. When they are older, we can provide the kind of preventive care that helps patients of all ages stay safe against threats like decay and gum disease. Office visits provide key protections through routine cleanings that fight tartar and instructions on how to maintain healthy teeth between visits. At the right age, we can offer additional protection with the application of dental sealants.
​Gentle Professional Cleanings Keep Tartar And Plaque Off Your Little One's Teeth
At any age, professional dental cleanings help with the prevention of decay and gum disease. Tartar buildup is concerning because deposits cannot be removed through brushing and flossing, so they will remain to put your child's smile at risk for harm. When they are old enough, we can begin gentle cleanings that remove any tartar or plaque found. We can also provide feedback after these cleanings to help you make sure your kids are following good hygiene practices between appointments.
​We Can Offer Guidance That Helps Kids Maintain Healthy Smiles At Home
At your kids' earliest oral health appointments, we can talk to you about the steps you should follow in order to protect their growing smiles. Your direct support in the form of cleanings and providing healthy meals and snacks will help them avoid cavities while they still have their primary (baby) teeth. Decay that affects these teeth can lead to the early eruption of adult teeth, alignment issues, and other complications. When they start to approach an age where they can brush and floss for themselves, we can offer them direct tips and also supply you with information on how you can help them protect themselves.
​Schedule A Dental Visit For Your Child At Pediatric Dental Care At Casa Linda!
We are happy to help our youngest patients maintain their healthy smiles! To learn how we can support them directly and with guidance on home care, contact your Dallas, TX, pediatric dentist, Dr. Marr, by calling (214) 321-4880.

filed under: Children's Dental Services, Good Hygiene