When Do Kids Need A Dental Checkup?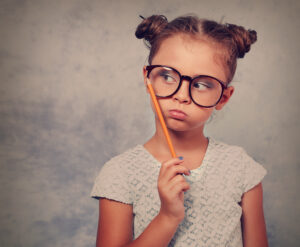 How often should children sit down for a checkup and cleaning visit with our team? The American Dental Association (ADA) recommends an appointment every six months starting at age two, and we agree! In today's blog, your Dallas, TX, pediatric dentist talks about when kids need a checkup, and what happens during these important visits.
Six Month Visits
Every child should have an initial exam, which involves a knee-to-knee lap exam, at around age once after the first primary tooth erupts. Then, starting at around age two, kids need to begin seeing us every six months for a checkup and cleaning visit. These allow us to monitor the smile and address problems in the early stages, since serious oral health issues take months to develop. We can also instill good oral health habits, help them better understand their smiles, and prevent them from developing dental anxiety as they grow accustomed to seeing dental professionals every few months.
The Dental Exam
The exam involves taking a close look at the teeth and gums, as well as certain oral structures. For an accurate and precise diagnosis, we will use digital x-rays and intraoral camera technology, so we can identify trouble in the earliest possible stages. The checkup will look for cavities, infections, and gingivitis. We also want to make sure your teeth are erupting properly and falling out on schedule too. For kids about to leave their teen years, we can also assess the risk posed by wisdom teeth too. Remember, the earlier we identify areas of concern the sooner we can provide treatment, and protect the health, beauty, and function of the smile.
Cleaning the Teeth
During the same visit, our team will also remove all layers of harmful plaque and tartar. Known as a dental cleaning, this procedure helps lower the risk of cavities and periodontal issues, as well as bad breath and teeth stains.
Continuing Proper Care at Home
At home, your children can help limit the risk of trouble and plaque buildup with daily care. Each and every day, kids need to brush twice a day for two minutes with a fluoride toothpaste, and also floss each evening. These actions help protect the smile until we can see them again! If you have any questions about how to help protect the smile and prevent major problems from arising, then contact our team today to schedule their next appointment. We look forward to seeing them!
Talk to Our Dallas, TX, Team Today!
Our team wants to help kids continue to enjoy good oral health and gain a better understanding of their smiles. If you have any questions about when your kids need a preventive visit, then contact your Dallas, TX pediatric dentist, Dr. Marr, by calling (214) 321-4880.

filed under: Preventive Treatments