How We Treat Children's Smiles With Dental Lasers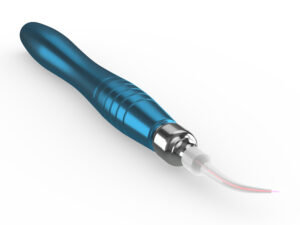 We employ a lot of advanced technology to help treat and manage smiles, protecting teeth and gums from issues like tooth decay and gingivitis. This may include digital x-rays or intraoral cameras. But we can also employ lasers! For comfortable and precise treatment, our team can use laser dentistry. In today's blog, your Dallas, TX, pediatric dentist talks about the benefits of our Solea dental lasers.
Laser Dentistry
With this treatment option, we use a concentrated beam of light specially calibrated for treating oral health concerns. The technology will prevent infection and reduce the risk of bleeding and selling, and also targets areas with precision to prevent inadvertent damage. The system is also quiet and rarely needs any anesthesia as part of the treatment process, making this a very comfortable treatment option. Kids also avoid any needles with this route as well! Often the procedure could be completed in only a single visit, and kids can return to normal activities after a day of rest.
Treating Little Smiles
Our team can use this technology to treat cold and canker sores, bringing relief from discomfort. We also use them to aid in the treatment of tooth decay and even dental infections. Dental lasers can also be employed to help reshape the gum line to address cases of gingivitis. The procedure often means a short time in the chair, and in some cases, kids can even return to school or normal activities shortly after treatment, often the same day!
Schedule a Checkup Soon!
Have you children had a chance to see us lately? We recommend a checkup and cleaning every six months for kids starting at age two. A checkup is a chance for our team to examine the smile and assess the need for treatment. In some cases, issues can be treated in one visit, such as a cavity. Our team also cleanse the teeth, which means removing all plaque and tartar with an ultrasonic scaling device, and then polishing the teeth. Your kids leave our office with a brighter and healthier smile! We can also discuss preventive treatments to avoid cavities, such as fluoride gel or even dental sealants. If you have any questions about how we treat little smiles and help keep them healthy and strong, then contact our team today to learn more.
Your Dallas, TX, Dentist Offers Advanced Treatment Options
We would like to help your children maintain their best possible smiles with routine visits every six months. If you have any questions about the use of advanced technology to keep little smiles strong, then contact your Dallas, TX pediatric dentist, Dr. Marr, by calling (214) 321-4880. We would love to help your kids smile with confidence again!

filed under: Children's Dental Services