How Do We Treat Little Smiles With Lasers?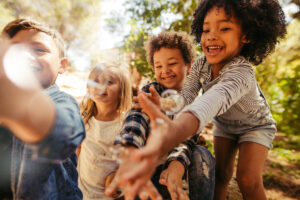 We offer digital x-rays and intraoral cameras to diagnose a child's smile, but in addition to the imaging system we use, we also have another advanced technology. Laser dentistry allows our team to comfortably and effectively treat a variety of minor and serious oral health issues. In today's blog, your Dallas, TX, pediatric dentist talks about the benefits of laser dentistry.
The Solea Laser
This is a hard and soft tissue laser specially calibrated to handle issues in little smiles. The concentrated beam of light can be used to target specific areas that need treatment with precision and accuracy, without damaging nearby tissues or causing complications. This is far more accurate than a scalpel, and doesn't require the use of sutures afterward. We're excited to offer this as part of the advanced technologies we use to treat smiles in kids of all ages, from toddlers to teens.
Restorative and General Treatment
The laser can be used to help remove decay from a tooth to prepare it for a filling placement and to also cure the composite resin material. We can help remove the infected tissues for children receiving a pulpotomy procedure, and also help trim away diseased gum tissues to protect the smile's health and stability. Our team can treat canker or cold sores as well. For some, we could also improve the overall esthetics of the teeth too.
Benefits
When we use this technology, we can complete treatment in only one visit. The procedure doesn't require a shot to administer anesthesia, as the laser itself numbs the area without the need for an injection! The laser helps prevent the risk of infection, swelling, and bleeding after the procedure ends, and most kids return to normal activities after a day of rest.
Checkups and Cleanings
Summer is a great time to bring your children in for a checkup and cleaning visit. They can receive care without missing school and falling behind, and they can start a new school year with a healthier and stronger smile. We will use the visit to examine the smile and identify any areas of concern, and administer treatment to safeguard their smiles. We also clean the teeth, which mean removing all plaque and tartar to help lower the risk of tooth decay and other complications. If you have any questions about our advanced technologies and approach to laser dentistry, or about scheduling a checkup and cleaning visit, then contact our team today to learn more.
Schedule Your Child's Next Checkup Soon
We would love to help your children continue to enjoy healthy and bright smiles with regular visits for exams and cleanings, and with the use of dental lasers. If you have any questions about the technology we use to help little smiles, then contact your Dallas, TX pediatric dentist, Dr. Marr, by calling (214) 321-4880.

filed under: General Dentistry