Conducting A Gentle Tooth Extraction When Necessary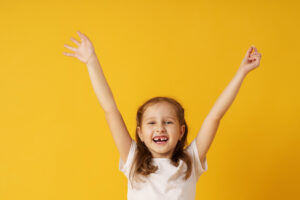 Sometimes, a tooth cannot be treated with a filling or a dental crown. Instead, safeguarding the smile as a whole means removing a tooth completely. In today's blog, your Dallas, TX, pediatric dentist talks about when a tooth extraction is necessary, and how we conduct one with comfort.
The Need for a Removed Tooth
When a cavity becomes a serious infection, we could often treat it with pulpotomy and crown. But if the infection is too severe, we may need to extract the tooth to prevent infection from reaching surrounding ones. Extraction could also address severely damaged teeth, or make room for orthodontic treatment. We could take out a tooth to improve bite balance and chewing function if necessary, too. Essentially, if the tooth in question endangers your overall oral health, we can take action.
Sedation and Local Anesthesia
We always want our young patients to feel calm and relaxed when they undergo torment. In addition to a local anesthesia near the site, we could also discuss dental sedation. This helps children enter a calm and relaxed state. We have three options: nitrous oxide, oral sedation, and IV sedation. The option we choose will depend on age, weight, medical history, and dental anxiety levels.
The Extraction Process
Our team will gently extract the tooth in question with a pair of forceps and then suture the area closed. We will remove sutures in a follow-up visit. For the first day, your kids need to rest. Give them soft foods to eat and tell them not to poke the site with their tongue. They should be very gentle when brushing and flossing, and mist return to normal activities after a day of rest. We may also prescribe medications to ensure a comfortable healing process.
If your child hasn't seen the dentist in a while, you may consider an appointment in the next few weeks, before school starts. If we discover any areas of concern, we can treat them before they start back to school, helping them begin that first day with a strong, healthy, and bright smile. If you have any questions about how we treat little smiles, or about when a procedure like a tooth extraction is necessary, then contact our team today to learn more. We want to help your children smile with confidence for years to come!
Schedule a Visit Soon With Your Dallas, TX, Dentist!
We want to help kids of all ages maintain good oral health with preventive treatments and restorative care, so they can maintain a whole and bright smile. If you have any questions about children's dentistry or about scheduling their next office visit, then contact your Dallas, TX pediatric dentist, Dr. Marr, by calling (214) 321-4880.

filed under: Restorations for Kids