Have You Scheduled A Dental Checkup For Your Child Yet?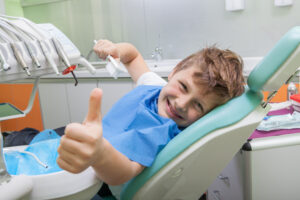 Children need to undergo an exam at least once every six months starting at around age two. These visits are crucial for protecting them from cavities, or issues like misalignment. Summer is an excellent time to schedule a checkup for your child with their Dallas, TX, pediatric dentist!
Dental Checkups
A dental checkup is a chance for our team to take a close look at your child's smile, and watch for changes that could have a negative impact on their overall oral health, such as cavities, infections, gingivitis, and even factors like primary teeth not falling out on time or complications with the eruption of permanent teeth, which could lead to misalignment later on. We can also instill good oral health habits and help them better understand how to keep teeth healthy and strong. Routine visits have even been shown to reduce overall dental anxiety and make kids more likely to continue seeing the dentist in adulthood. Our team would like to see your child for an initial visit at age one, after the first primary tooth erupts. Regular visits should begin every six months starting at age two.
Providing Preventive Treatments
During these visits, our team can actually offer preventive visits to lower the risk of cavities. During each checkup, we can apply a fluoride gel to the teeth. The application takes only a few minutes, and this helps strengthen the protective layer of outer enamel. Our team could also provide dental sealants. This involves placing a plastic coating on the rear teeth, which are often the most difficult for kids to reach when they brush and floss. The sealants keep food particles from being trapped between them. They wear away gradually with time, but can last as long as teen years in some cases. As they wear away, they adhere to the most vulnerable portions of the teeth too.
Better Homecare Too
In between these visits, daily homecare can help limit plaque buildup and the risk of issues like cavities. Make sure your kids brush or have their teeth brushed in the morning and every evening, and that as soon as teeth sit side-by-side, they floss every evening too. Cutting back on sugary foods and drinks can help them too! To limit the chances of a dental emergency, you should make sure your child wears a mouthguard if he or she plays full contact sports or martial arts. If you have any questions, then give our team a call today.
Do You Have Questions About Dental Exams?
We would love to help your children avoid poor oral health issues, including tooth decay. If you have any questions about the process of examining little smiles, then contact your Dallas, TX pediatric dentist, Dr. Marr, by calling (214) 321-4880.

filed under: Preventive Treatments