Regular Reviews For Your Child's Growing Smile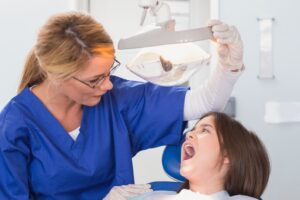 As exciting as it can be to watch your child grow up, it is important to look out for developmental issues that can negatively impact their health and appearance. One benefit to consistent pediatric dental checkups is that parents receive regular updates about the development of their little one's smile and oral structures. Our Dallas, TX pediatric dental office uses careful examinations and digital x-ray technology to assess our patients' development over the course of their visits. We can monitor their progress as they lose their primary ("baby") teeth and receive their replacements, and we can look for early warning signs of developmental trouble we can help resolve.
Checkups For Young Patients Address Oral Health And Developmental Matters
At any age, regular dental reviews have value. These visits provide thorough cleanings to fight oral bacteria as well as reviews that lead to the discovery and treatment of different problems that can affect us. For kids, checkups focus on more than just matters like dental decay and gum disease. They also tell us if their development is progressing normally, and they can become an opportunity to act early if any troubles are identified. This can mean timely support for malocclusion, a common issue with poor teeth spacing, as well as treatment for any other developmental problems that could affect a little one's appearance and health.
Using Digital X-Rays To Keep Up With Your Child's Growing Smile
By capturing images of a patient's teeth and oral structures with digital x-ray technology, we can chart their growth and monitor their progress as they age and mature. This can give us a better sense of how they are developing, and it can give us more context for any matters of concern. Digital x-ray technology can capture remarkably vivid images that are easy for patients and parents to see for themselves, making discussions and treatment plans easier to outline.
What We Do To Help Kids Maintain Healthy Teeth Between Visits
Regular appointments provide timely care in the office as well as guidance to help kids avoid future problems that require dental fillings, dental crowns, or other forms of treatment. One way we help is by providing gentle but thorough cleanings to remove plaque and tartar. We also help by giving kids guidance on smile care at home. Instructions on better brushing and flossing can help children develop good habits early and stick with them, lowering their long-term risk for problems!
Our Dallas, TX Pediatric Dental Office Can Help You Stay Informed About Your Child's Growing Smile!
Thanks to their regular appointments, kids who visit Pediatric Dental Care At Casa Linda enjoy consistent protection against oral health threats. Their parents also receive reassuring updates about the development of their growing smiles! To book an appointment for your little one, contact your Dallas, TX, pediatric dentist, Dr. Marr, by calling (214) 321-4880.

filed under: General Dentistry