Lasers Offer Comfortable Treatment For Kids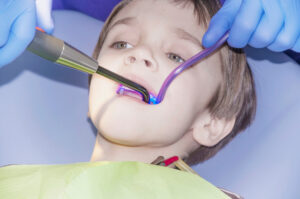 We always want to ensure our little patients enjoy good oral health and a comfortable treatment experience. In addition to options like local anesthesia and sedation, we also employ advanced technology for the treatment portions of each visit. In today's blog, your Dallas, TX, pediatric dentist talks about laser dentistry.
Using Laser Dentistry
The Solea dental laser employs a concentrated beam of light to conduct hard and soft tissue treatments, and is calibrated to be used safely in patients of all ages, including children. We're excited to offer this for our patients, as it addresses concerns with unrivaled precision and accuracy, protecting surrounding tissues and preventing complications. This is more precise than a scalpel, and in some cases replaces the noisy drill as well. We've found this option helps kids feel more at ease during treatment, and addresses a wide array of oral health concerns.
Common Treatment Options
When we see a child for a cavity, we could use this technology to remove decay and place a dental filling. We could also employ them to help address infections as part of the pulpotomy procedure, or to treat cold or canker sores too. They can help address gum inflammation and even remove discoloration or help with contouring procedures. Usually, the procedures take only one visit to complete, and the treated area heals quickly so kids can resume their normal activities after only a day of rest. In fact, some kids can actually return to school afterward!
Benefits for Smiles
The lasers require little to no anesthesia, so treatment is comfortable. Kids won't need to receive a numbing agent via a shot, which helps those afraid of needles feel more comfortable. They prevent bleeding and significantly lower the risks of infection afterward. They don't damage surrounding healthy tissues either. This offers treatment with greater precision and comfort for little smiles of all ages.
Schedule a Checkup Too
Now that summer is here, you should consider scheduling a dental checkup with our team. We can conduct a checkup and cleaning for your little one, and you don't have to worry about them missing school. If we find areas of concern, such as a cavity or infection, we can then treat it so when summer ends, your little ones return to school with stronger and healthier smiles. Our team can even administer preventive treatments like fluoride gel or dental sealants to help lower their risk of cavities too!
If you have any questions, then contact our team today to learn more.
Do You Have Any Questions?
Our team would like to help kids of all ages maintain good oral health. If you have any questions about our advanced treatment option, then contact your Dallas, TX pediatric dentist, Dr. Marr, by calling (214) 321-4880.

filed under: General Dentistry