How Dental Checkups Help Kids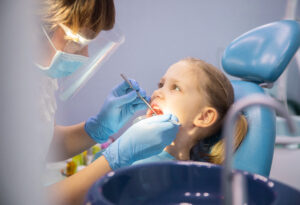 Kids need to have their teeth examined at least once every six months starting at around age two, and this is crucial for helping them enjoy better oral health. In the same visit, we also clean the teeth too. In today's blog, your Dallas, TX, pediatric dentist will discuss how a simple checkup is so beneficial for a little smile.
Starting the Exam and Cleaning Process
When your child comes in for a checkup, we will make sure he or she feels comfortable and relaxed. We will ask a few questions about their oral health habits, and then take a close look at their smiles. In addition to a visual exam from the dentist, we also employ advanced digital x-rays and intraoral cameras, which provide detailed images quickly and comfortably. We use these to obtain a detailed diagnosis of the smile, and to catch possible problems in the earliest stages. Our team will also clean the teeth, which means we use an ultrasonic scaling device and a manual pick to gently and thoroughly break up and remove all buildup from the teeth. The first visit should happen at around age one and will be a simple knee-to-knee exam. At age two, regular checkups and cleanings should begin twice a year.
The Benefits for Their Smiles
A checkup means we catch tooth decay in the earliest stages, and we also make sure the baby teeth are falling out on time and that permanent teeth erupt correctly, limiting the risk of misalignment and discomfort. The cleaning portion is helpful too, as removing buildup lowers the risk of bad breath, teeth stains, inflammation and even cavities. These visits help reduce dental anxiety as your kids become accustomed to seeing dental professionals, and we have a chance to instill good oral hygiene habits too.
Continuing Care at Home
When your child comes home, you can all work together to protect their smiles before the next visit. This means brushing and flossing daily to control plaque buildup and protect the smile, and cutting back on the consumption of foods and drinks high in sugar. If you have any questions about how we treat poor oral health in childhood, or about how to protect little smiles from home, then contact our team today to learn more. We want to help your child smile with confidence!
Ready to Help Your Kids Enjoy Healthy Smiles?
Our team is ready to help kids with routine visits for exams and dental cleanings. If you have any questions about our approach to preventive care for kids, then contact your Dallas, TX pediatric dentist, Dr. Marr, by calling (214) 321-4880.

filed under: Children's Dental Services