Creating Crowns For Your Child's Smile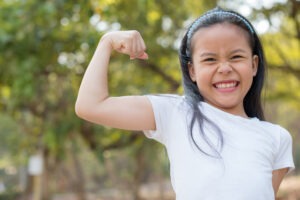 When children have a serious case of tooth decay, or possibly a damaged tooth, then a filling may not be the best way to repair the tooth. Instead, your Dallas, TX, pediatric dentist could provide a dental crown. In today's blog, we're looking at our stainless steel and NuSmile zirconia dental restorations.
When Children Need a Restoration?
A dental crown is sometimes referred to as a full restoration, because it completely covers the visible portion of a tooth. This enables it to address a wide array of restorative concerns, and also add cosmetic benefits of materials like zirconia are used. We could recommend them for a case of tooth decay too severe for a filling, or as the last step in a pulpotomy procedure, in which we treat an infection. Placement could reshape malformed teeth, repair cracks and chips, and lengthen any teeth worn down by grinding and clenching. We could also employ dental restorations to improve bite balance and chewing function too.
Creating and Placing a Crown
We start with a thorough exam so we can assess the state of your child's smile. If a crown is necessary, we will then administer a local anesthetic and discuss sedation options, so your child feels calm and comfortable even if he or she has dental anxiety. Next, we need to make room for the restoration by removing structure from the tooth. We have stainless steel options for the side and rear teeth, which endure greater bite forces. A zirconia crown, which is white, could be used in some cases for an option that looks more natural. Once we secure the restoration with a powerful bonding agent, the crown could provide protection for years to come.
Protecting Your Little One's Smile
Often, we can work with you to provide preventive care for little smiles and prevent the need for a full restoration. We can discuss proper brushing and flossing habits, and offer ideas on snacks that are more smile-healthy. At our office, we can remove harmful layers of plaque every six months, and provide fluoride gel or dental sealants to help safeguard the teeth from cavities and infection. If you haven't scheduled a checkup and cleaning for your children lately, then consider making an appointment today. If you have any questions or concerns about our approach to children's dentistry, then contact our team today to learn more. We want to help smiles in kids of all ages stay bright and healthy!
Do You Have Questions About Restorative Dentistry?
Our team is ready to help restore your little one's smile with a custom treatment option. If you have any questions about our approach to restorative dental care, then contact your Dallas, TX pediatric dentist, Dr. Marr, by calling (214) 321-4880.

filed under: Restorations for Kids